Funny, Huh? Life Is Strange Episode 3 Arrives Next Week
No mystery here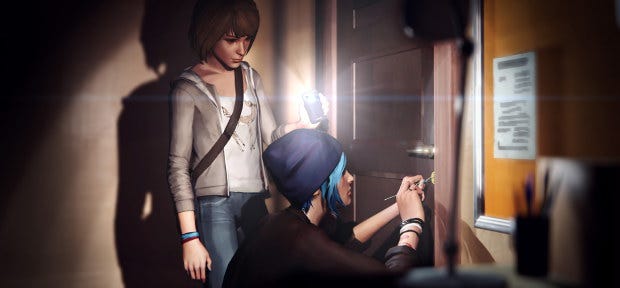 Life Is Strange [official site] is the first episodic game I've played actually episodically, getting in at the start and following along as new episodes come rather than in one lump at the end. (Half-Life 2 doesn't count.) It's quite fun this, isn't it? I think the idea could catch on, you know. Like waiting for the next episode of a TV show, yeah?
Time-travelling teenager Max and her ragamuffin gal pal Chloe will return in Episode 3 of Dontnod's adventure game next Tuesday, May 19th, publishers Square Enix have announced. Mild spoilers/teasers follow - like a TV listing, right?
The announcement offers a full version of this screenshot I cannily cropped to conceal a detail for folks wary of spoilers, along with this little tease:
"In the next installment of Life is Strange, Max & Chloe ramp up their investigation to find out what exactly is going on at Blackwell Academy and the whereabouts of Rachel Amber. Secrets will be uncovered and Max will find another use for her power!

"Here is a brand new screenshot which shows Max & Chloe attempting to break into the office of Principal Wells. What could they be looking for? What will they find?"
I'm enjoying Life Is Strange. It's pretty fun teenage melodrama with a kick of mystery, a touch of the supernatural, and heaven help me I'm pining for the Pacific Northwest something fierce. I regret not swimming in the Pacific while I was there and not spending enough time out in the trees, so I'll gladly revisit this virtual Oregon. It has some beautiful spots, and I enjoy the opportunities to sit down and reflect.