Push Me, Pull You Wriggles Its Way to PC Next Week
Squirmy, yet oddly huggable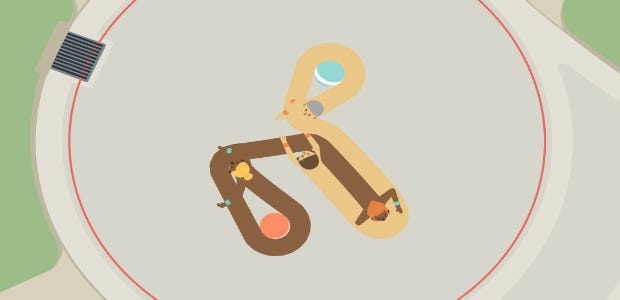 If you're looking for something fresh and mildly disturbing to play this summer season, you'll be pleased to hear that Push Me, Pull You [official site] is headed to PC next week on July 14. House House's oddball project pits two-headed sausage people against each other in a slappy wrestling match. The dev team describes it as a game "about friendship and wrestling". Charming stuff. Push Me, Pull You is a local multiplayer game in which two players control one grotesque worm person, working together to maneuver an assortment of limbs to wrest the ball from the opposing team.
Prepare to be simultaneously repulsed and entertained. Wrestling is not easy when two people are in control of one body, especially a body that can stretch endlessly. The critters drag themselves about the field with creepy, twitchy movements reminiscent of a horror film, but have cutesy cartoon faces. House House did a great job with the sound effects too, your body audibly slurping as it stretches, your palms smacking against the ground and your opponent. It makes for a gross tactile aesthetic.
It's all oddly fascinating, and the cooperative gameplay means you'll be forced to come up with clever strategies alongside your partner. Push Me, Pull You will launch on PC, OSX, and Linux.