Shadow Warrior 2 Slices And Dices Onto PC In October
Let's get stabby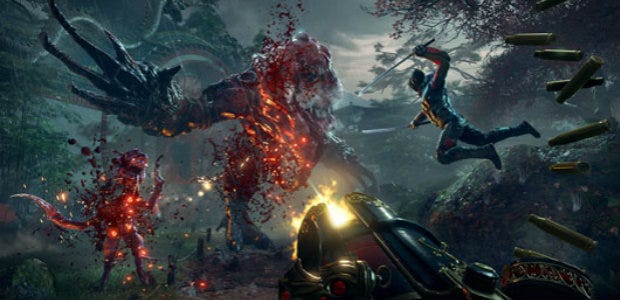 Shoot and slice 'em up Shadow Warrior 2 [official site] is set to launch October 13. It's a bloody, over-the-top ninja adventure that doesn't take itself too seriously. There's a guy taking a selfie as he decapitates a monster, so there's stuff in there us millennials can relate to, too. It's also shaping up to be quite beautiful if you look past all of the gore spraying everywhere. In the trailer below, Flying Wild Hog has recreated the subtle fall foliage of November in Japan contrasted with the white-washed walls of austere Buddhist temples. Lovely!
Shadow Warrior 2 is a sequel to the really quite good 2013 revival of the old 3D Realms FPS. This second entry sheds structured levels for procedurally-generated ones with a more open feel as you assume the role of mercenary Lo Wang, who has somehow found himself enmeshed in a struggle between a scientist and an evil cultist. With single player and four-player co-op gameplay modes, Shadow Warrior 2 tasks you with completing missions while gathering relics and upgrading your weapons. Perhaps most importantly, you get to play with a chainsaw katana. Adam got to try the game out earlier this summer, and, for the most part, he quite liked it.
When the time comes, you'll find Shadow Warrior 2 on Steam, GOG, or the Humble Store for £34.99/36,99€/$39.99.