Monster Hunter: World's PC delay explained
Oh well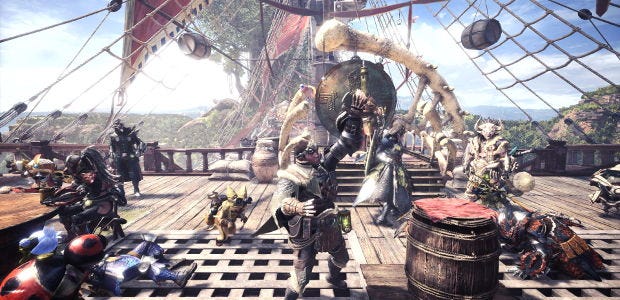 At a time when delays between console games' PlayBox releases and their PC launches are almost eliminated, why is Monster Hunter: World coming to PC eight or so months later? Capcom were vague about this before, but have now said they're currently focused on the action-RPG's console release then will do PC later so they can make our version proper solid. The console release is on January 26th, see, but it won't be on PC until some time in the autumn - way later than I would expect these days.
"For the main Monster Hunter game, this is our first PC title and it's something we want to make sure we get right," producer Ryozo Tsujimoto told GamesRadar, as reported by their corporate sibling, the cheery fanzine PC Gamer. "So rather than have it taking up resources during the console development and not it not being able to have our full attention on it. We want to get console out the door and then we're going to take some extra time and try and get the PC version as good as possible."
Tsujimoto also says that a little extra work is required because they can't just tap into a console's native multiplayer matchmaking.
As I've said before, it is a shame that we'll miss that initial excitement and chatter with our consolechums. By the time we get to play the game, everything about it will be discovered and documented, jokes will be tired, and the crushing weight of established and loudly-repeated opinions will taint the hope of going in with fresh eyes. Ah well. As long as I have a good cat friend, y'all can do one.