Will We Populate The Repopulation?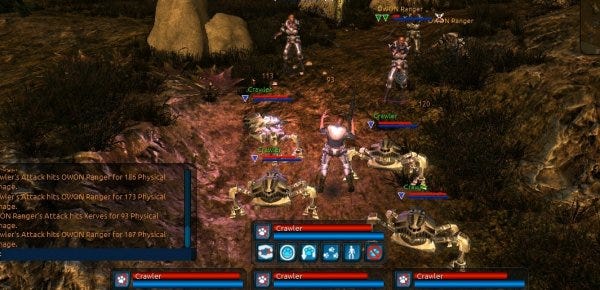 Above and Beyond Technologies have announced the existence of a new MMO, dubbed The Repopulation. It's powered by off-the-shelf MMO system Hero Engine and is described by its creators like this: "You begin your adventure as a second generation clone colonist on the planet of Rhyldan, with mankind on the verge of extinction, and in the midst of a civil war. We've taken a fresh look at every feature of the Massive Multiplayer genre, with an eye on revolution, rather than evolution. The end result is a unique feature set aimed towards old school fans and new players alike." Hmm! So what sort of unique features? Well, "Hybrid approach which blends Sandbox and Theme Park mechanics." That sounds promisingish. "City building system allows Nations to form their own cities complete with Walls, Turrets, Harveters, Workshops, Houses, and other forms of structures geared towards benefiting the owning character, or the City as a whole." More interesting! "Be rewarded for your travel through the exploration system." That's interesting, too.
"Pre-alpha" video, below. It certainly looks like a sci-fi MMO.