Witchmarsh Is A Baldur's Gate-Inspired RPG In The 1920s
The snarling '20s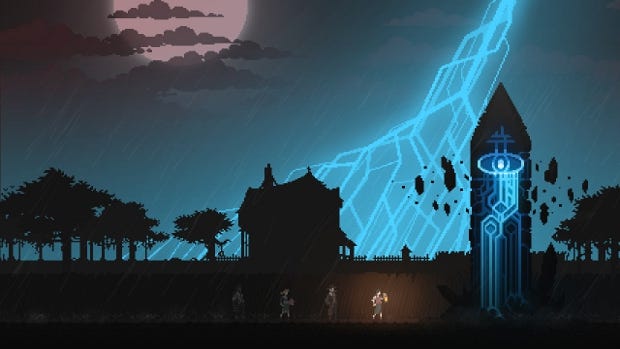 And not just any 1920s - the occult 1920s, to be precise. In America these were not roaring '20s so much as they were snarling '20s, '20s stained by shadow and fear - not of what was known, but what was unknowable. Usually it just ended up being your run-of-the-mill Cthulhu End of Days scenario, but sometimes... other things. Witchmarsh is an action-RPG set in said time of menace, but it's also thrumming with the music and culture of the era. I always hoped the end of the world would be set to jaunty jazz. Oh, and the game's primary influences? Baldur's Gate and Wizardry, of all things. It looks brilliant. Trailer below.
Quite a thing, right? Witchmarsh takes place in the "darkest corners of rural America." You play as a big, potentially bickering party attempting to find the "Witchmarsh 12" who vanished for reasons. Here are the many, exceedingly enticing things you will be able to do:
Witchmarsh puts a fresh, accessible spin on classic RPGs like Baldur's Gate and Wizardry, without compromising on depth. The game features online multiplayer, extensive character creation, countless ability and item combinations, and rewarding boss encounters.

Features

A refreshing mix of modern and classic RPGs, with branching dialogue and responsive, tactical combat.
Play singleplayer or with friends in 2-4 player Co-op.
Dripping with Jazz Age style, featuring music by Francisco Cerda, composer on Gunpoint and Jamestown.
A massive character creation sandbox with over 50 unlockable abilities* across five spellbooks. Mix and match attributes, perks, items and weapons to create a unique team of adventurers. Or simply use one of the many templates to dive straight into the action.
A game for seasoned RPG fans as well as players new to the genre. Optional bosses and challenges for those brave enough to seek them out.
Over ten* playable characters. Watch your choice in personalities result in conflict, friendships, wisecracks... romance?
A dynamic hidden item system ensures no two trips to Witchmarsh are the same.
Witchmarsh is currently on Kickstarter, and it's holding itself ransom in exchange for a fairly handsome sum of £50,000. Developer Inglenook also has Starbound creator Chucklefish helping out with business and marketing, which is great for the game and also because who wouldn't want to refer all business associates to the desk of William QT Chucklefish Esq The Fourth.
If the Kickstarter succeeds, Inglenook is hoping to have Witchmarsh out by December 2015. It already looks quite nice, but putting the "sprawl" in "sprawling RPG" takes time, especially when you're working with a smaller indie team.
Between the concept and the influences, this one definitely has its Eldritch horror tentacles wrapped firmly around my wallet and also my rapidly cracking ribs. Think you'll back it?