Work up an appetite with Hot Pot Panic
Food for thought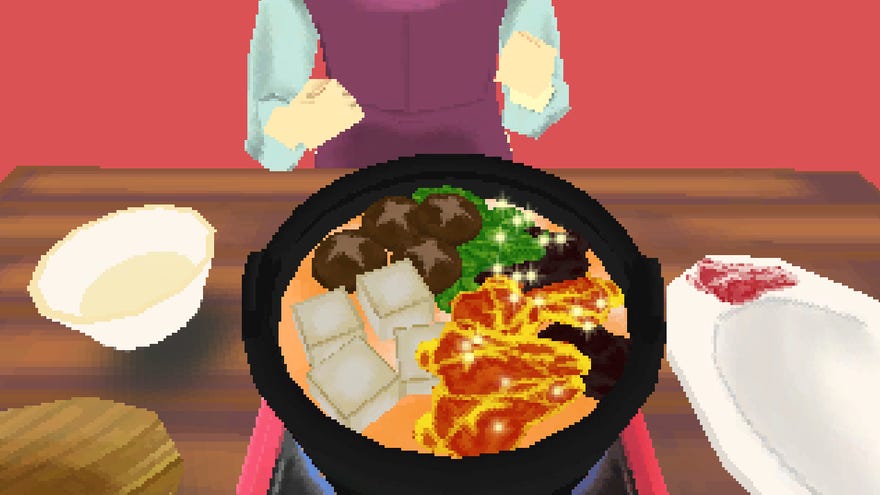 Delicious dinner simulator Hot Pot Panic is all about making the tastiest food and then stuffing yourself with it. I'd tell you more, but playing it has made me very hungry, so I'm off to go raid my fridge first.
The game technically asks you to manage both cooking and conversation. You'll need to make sure you pay attention to what your dinner companion is saying and respond appropriately, but also scarf down as much tofu, meat, and veggies as possible before they burn in your broth. Luckily she's a pretty good storyteller – the anecdotes about her mother struggling with technology are deeply relatable – and somewhat forgiving if you weren't listening. Not that you would ever value food over friendship, right?
Developer Keane Ng has said multiple times that the intention of the game is to get you peckish, so, mission accomplished. The combination of the way the ingredients turn golden brown and sparkly to let you know that they're ready and the sizzling sound effects is extremely effective. I swear I could tell you exactly what that broth pot smells like.
Though I might have had my tummy set rumbling, it appears I've been lucky. An earlier game from Ng, (all about and therefore appropriately titled) Frying Bacon, seems to have transported Alice to an alternate dystopian dimension where all food is pills and all entertainment is The Archers and virtual cooking.
Hot Pot Panic is available to download for pay what you want with no minimum from itch.io.