Halloween 2018 Special: round up of very nice things
Seasonal unscares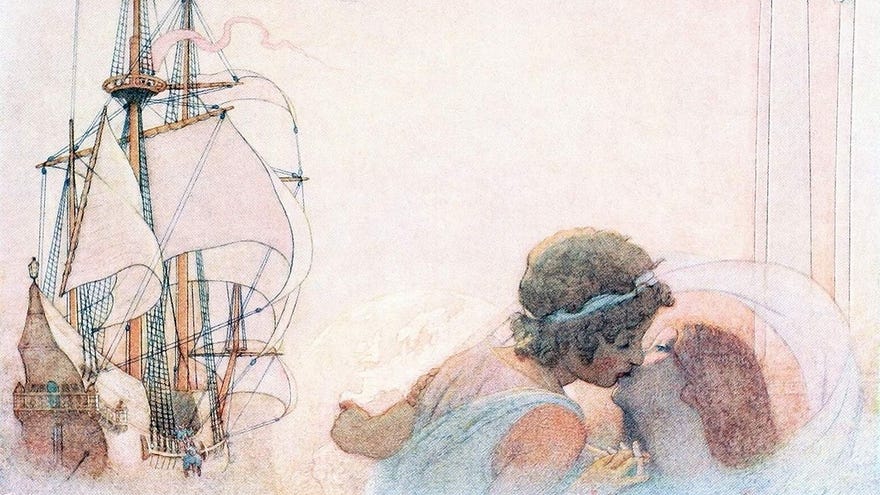 I bet you thought that what with all the spooky stuff we've had on the site over the past while, we were leading up to a big horror extravaganza of Halloween-themed stuff today. "Someone is going to use the word 'spoopy'," you thought. Well you're wrong!
All our special Halloween features are about nice things today. We are wall-to-wall niceness. Dare I say suffocatingly cute. Guaranteed no fun jump scares built into the code of the website as you scroll down. The only thing you have to fear is being so relaxed that you fall asleep and nap for too long and then you wake up with a fuzzy brain and aren't able to do anything except nap again. Oh no! You were going to make dinner but now you'll just have to eat a can of pringles and a bag of Bitsa Wispa! Let RPS be the light you turn on when your living room is a bit dark and you think the bag on the sofa is actually a monster about to kill you. And you turn on the light and you're like, phew, it's okay, it's just the replacement Bitsa Wispa I bought from Tesco. Everything is okay.
To start, here is a big post rounding up lots of sweet, cute, or otherwise lovely things we've written or made or talked about on the site for the last few months.



The RPS VidBuds playing Divinity Original Sin 2
I know technically Divinity Original Sin 2 has scary bits in it like big talking skellingtons (skellington is more correct), but the RPS VidBuds - not an officially sanctioned name but they do video and are my buddies - are adorable. Their team play of the Definitive Edition of Original Sin 2 is therefore the same. Only one of the team keeps wanting to set fire to everything, or kill children and animals.
The gang are playing as Lohse, and are still unsure how to say her name correctly. I've embedded the first video below to whet your appetite. Come for the intense RPG, stay for the explanation of Fiddle Fiesta.
Incidentally, their party now includes the squirrel knight who rides a cat skeleton, who is also cute.
That time Toby did the Steam Charts
Seasoned readers will know that every Monday John finds out which games were the highest grossing on steam that week, and then gives descriptions of them in case you, the seasoned readers, don't know what those games are. Always very helpful descriptions, mind.
A couple of months ago John got RPS's youngest freelancer, his three-year-old son Toby, to do the Steam Charts (with only a little bit of help). It was everything you might hope it to be. You can read an edited version of their conversation here, which also has the full recording to listen to.
Fans of Toby's work may also enjoy his review of Paw Patrol: On A Roll!.


When Matt reviewed every animal at EGX
As in the animals in the games, not the games about animals. He does give a best animal award out, and everything. No spoilers though. Features frogs, cats and good doggos, and helpfully doubling as a list of nice games with nice animals you might like.


Hot Pot Panic, a game about eating and talking
Our weekend editor Jay Castello wrote a little bit about Hot Pot Panic here, and really sold it with just a few hundred words. In HPP, as I'm sure everyone calls it, you're at an all-you-can-eat hot pot place, and have to cook and snarf down as much of the delicious broth as possible. But at the same time your friend is trying to have a conversation with you, so you have to pay attention to her as well. If she works out that you're not actually listening then you could hit game over. You go out for three meals together, and you actually get updates on stuff she's told you about at the last one. If you pay attention.
Hot Pot Panic is over on itch.io, and you can name your own price! That means if you're strapped for cash you get a lovely game to enjoy, but if you're not you can make goth Christmas a bit more joyful but sending the developer Keane Ng some well earned monies.
Incidentally, Jay does a great job at highlighting lovely things every weekend. Here are some posts about the achievements in Wandersong, the "exploration and music creation game" Morphê, and why sitting around in Life is Strange 2 is fun.


Priceless Play in general
Speaking of free games, our weekly free games column has had many guises and writers over the years. Right now it's called Priceless Play, and is written by Kat Brewster. For the past few weeks Priceless Play has rounded up spooky or unsettling games, or games that we might otherwise classify as horror, but Kat includes a jump scare warning for each of them. Going further back, though, there are Priceless Play columns themed around autumn, cats, and the Queerness and Games Conference.
Before that, Jupiter Hadley ran the column as Free Games of the Week, with a varied clutch of free games every week to have a peek at. Always surprising, always cute, always free.


Noa's Let's Play of Dragon Quest XI
Noa really likes Dragon Quest XI, and a game which features the term 'bunnicorn' is definitely going to be lovely enough for anti-Halloween. Her enthusiasm for it in her early let's play is enough to cheer anyone up. Yet, and at the same time, Noa has the most soothing voice over of anyone on YouTube. This LP really makes you want to make a cup of hot chocolate and snuggle up in a blanket. And possibly play Dragon Quest XI.


Ori and the Blind Forest
One of Katharine's Have You Playeds last week was for Ori and the Blind Forest, which made me go "Oh yeah! Ori and the Blind Forest!" Ori and the Blind Forest is really good - Katharine describes it as "the pinnacle of the cute-but-crazy-hard platforming genre," in fact. Ori itself, the little white forest spirit, is so cute that you can buy plushies of both it and it's adoptive guardian Naru.
Ori got a Definitive Edition about a year after the first release, which John loved. The sequel, Ori and the Will of the Wisps, is expected next year, and promises to be just as darling.


I fell in love with Kassandra falling in love
Assassin's Creed Odyssey has both bad and good points, but the goodest of all the points is that Kassandra can have the most ridiculous hook-ups imaginable, whilst also being the pinnacle of loveliness. I am extremely pleased to report that since I wrote this article Kassandra has accidentally killed a man's mother and had sex with his dad, and recruited two more of her girlfriends to be crew on her ship.


Fraser's management game recommendations
In a recent feature Fraser made a convincing case for how management games can really help you chill out, which is especially helpful during a time that half-sized goblins assault your door and demand tiny Mars Bars.
This article mentions a bunch of good management games, recent and a bit older, including Megaquarium (which Alice Ligouri also enjoyed), Parkasaurus and, of course, Stardew Valley. Stardew Valley also crops up on our list of the 10 most relaxing PC games.


This Ooblets interview
One lovely thing to remember is that there are still loads of cute things that haven't even happened yet! One of the most anticipated cute things still to come is Ooblets, which is, well, a bit Stardew Valley, a bit Animal Crossing, and a bit of a bunch of other things, which added together make a new, different, but still very nice looking thing. Jordan Oloman asked the Ooblets devs to explain a bit more about how these influences are all fitting together for the final game. The titular ooblets are little creatures with names like Unnyhunny. They disco dance instead of fighting. It's almost too cute.


Brendan's horny Soulcalibur boys
Like many, Brendy was immediately enamoured of Soulcalibur VI's character creator, which is far more detailed than any fighting game's character creation needs to be. And yet, unlike everyone who just gave their lizard characters big lizard willies, Brendy is a wholesome lad. The willy thought didn't even occur to him; he just made a nice gang that are part boyband, part frat house, part Magic Mike, and all reptile, bay-bee.
The Soulcalibur VI character creator is leading to all sorts of nice shenanigans. Brendy mentions some of them in his review of the game. Here is a video tutorial for making Bob Ross, complete with an artist's palette. Sort of. Because in the end, isn't Bob Ross the nicest thing ever anyway?
Happy Halloween!