I can't stop making horny lizard lads in Soulcalibur VI
Ladsss, ladsss, ladssssss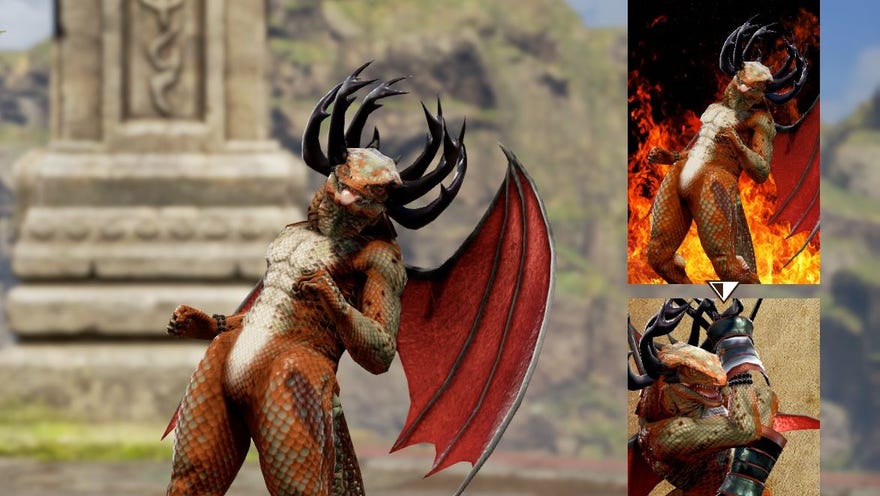 Sword-obsessed fighting game Soulcalibur VI is out next week. I'm stabbing my way through the story mode, which is mostly a matter of skipping lots of anime-quality dialogue and then having a panicked clash against a man with knives for fingers. But something keeps distracting me. The character creator. It is very good. Here you choose from a bunch of fantasy races (orcs, elves, skellingtons), dress them up, and pick a fighting style. Finally, you take a photo of them. There is a lot of choice and variety in this creator. But if you are not using it to make horny lizard boys, you're doing it wrong.
The first secret to making a good lizard is in the horns, you see. There are numerous kinds of horn in the character creator, and you can re-size and rearrange them freely. The game also randomly assigns your character a name (although you can change it if you want). This ram-horned lad is called "Julian".
The second secret to making a reptile that would appear comfortable in a polo shirt is to take their photo at just the right moment. The creator gives you a lot of poses (looping animations of the character taunting or kicking or recoiling from a hit). You can slow this animation right down, and snap a picture at a good moment. Here's a loincloth brozard, who the computer called "William". He is laughing at something, probably inappropriate.
But the real trick is to have your scaley cold-blooded lad pull a good face. There are a bunch of facial expressions available. On humanoid characters, expressions like "in pain" or "surprised" will roughly match that emotion. But this subtlety is somewhat lost on anthropomorphic lizards. They always seem to look like they've just downed a shot of sambuca and are ready for the boat. Here's toothy toga-lover Craig pulling a face described as "anguished".
I'm making a lot of fun of this, but the character creator is very good. You can change your voice, background, and the lines you use in battle – even the context in which you'll use them. This beetle-horned dragon, who I have called Scaleyboy for the sake of simplicity, now only talks about fire, heat and his own breath. He does this in the voice of a "transcendental being". He's pretty metal.
I'm not sure how good these trust fund cricket eaters will perform in a real fight, however. In Soulcalibur VI, your creations can show up in another player's game, and I would be sorry if somebody knocked Billy or Julesy or Scaley or Craigso out of the ring without first admiring their pecks. They're all good bros. Especially Branson, who just wants to fist bump all day.
I've had a lot of fun dressing people up as Santa in Tekken 7, or flirting with fashion in Absolver. But now that I've had a taste of Soulcalibur's character creator, I can see myself making many more lizard lads before my review is finished. I'm currently taking a fork-tongued fella called "Lane" through the not-quite-an-RPG adventure mode. So yes. Good work Bandai Namco, you gave me the lizard bro friends I never knew I wanted.