World's First Rocket League Champions Crowned In LA
Car-to-ball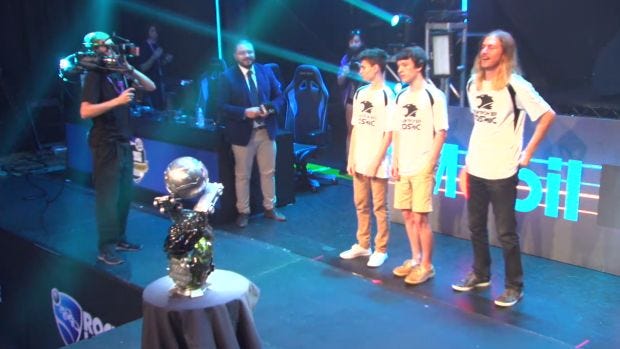 The first ever world champions of Rocket League have been crowned after winning the grand finals of the Championship Series last weekend in Hollywood, taking home £27,000. The winning team, iBuyPower Cosmic, beat their European rivals Flipesid3 Tactics in the final, winning a best-of-seven series of games 4-2, among some very awkward celebrations. Meanwhile, the favourites to win the tournament had been thrown out on the first day.
The upset came when the highest-ranked US team, Kings of Urban, was usurped and eliminated on the first day of the weekend. They lost their first match against the 4th ranked European team, The Flying Dutchmen. That put them into the losers bracket, where they lost again when facing Flipsid3 Tactics. This eliminated the team that many had expected to storm through the finals to an ultimate victory.
In the meantime, FlipSid3 Tactics and iBP Cosmic each fought their way through the competition until they were the only teams left. The grand finals were tight to begin with, as each team won matches alternately, bringing it from 1-1 to 2-2. But eventually, Cosmic scrambled ahead in the fifth game, winning the match 5 goals to 3. After that, they only needed one more win to take the trophy. Which they got – 3 goals to 2 – making captain Cameron "Kronovi" Bills, Brandon "Lachinio" Lachin, and Ted "0ver zer0" Keil the first world champions of car football. Well done!
There's more details about the other teams in this official recap. And if you want to watch the whole shebang, it's here on Twitch. But if you just want to watch the grand finals, skip to about 6 hours 10 mins and try not to weep at how bad you are at videogames.