Worms WMD Trailer Promises 80 Off-The-Wall Weapons
Back to ballistics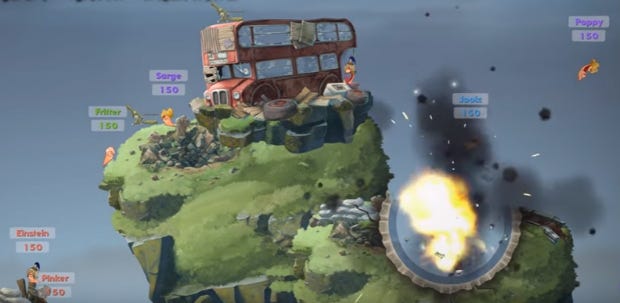 When Worms WMD [official site] launches later this year, it'll come packing 80 weird and wonderful weapons fit for wanton worm-walloping, say developers Team 17. By my count, the latest trailer showcases just 21 of them, however does include outlandish armaments such as Concrete Donkeys, Dodgy Phone Batteries, and Agile Old Ladies. It's looking like Worms as we best know it, then, with this extended arsenal owing itself to the latest iteration's new crafting suite. Hop below to discover just over a quarter of the ways in which Worms Must Die.
Because this is Worms, 'standard' weapons include run of the mill firearms such as machine guns and sniper rifles, but also stretch to the likes of Banana Bombs, Furious Prods, and divinely intervening OMG Strikes. The rest are products of the game's crafting setup which allows for idiosyncratic slants on the existing toolset. Expect things like Bazooka Pies, Alloy Baseball Bats, Electric Sheep and Stinking Carpet Bombs, among other things, then, as you mix and match to achieve the craziest of concoctions.
As for the new line of ordnance, some of the ensemble sounds pretty interesting. The Dodgy Phone Battery, for example, creates a chain of shocks, arking to the next friend or foe within the appropriate range as it goes. The Unwanted Present, on the other hand, lets you determine how many turns a seemingly innocuous parcel will take to explode (between one and five); whereas the aforementioned OMG Strike calls upon a sky-bound satellite to rain lasers upon the battleground below.
Truth be told, it's been a while since I've played a Worms game for any length of time, yet they've often struggled to hold my attention. I've always found them entertaining, sure, but I've almost always ran out of steam after just a few hours of battle - even considering its off-the-wall comedic approach. Adding crafting to the mix seems like an obvious solution, and one which I'm surprised hasn't been implemented before. For full details on what to expect in this regard can be found by heading to this here announcement.
Multiplayer looks pretty fun too.
Worms WMD will be deployed at some point later this year.