Wot I Think: The Dream Machine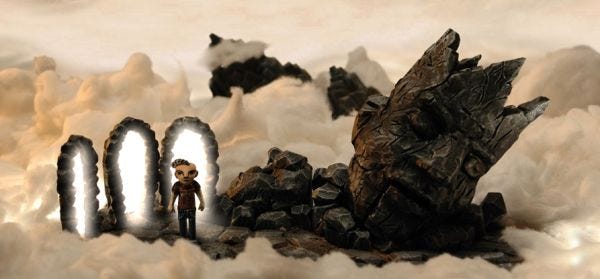 The Dream Machine is a unique-looking point and click adventure - handmade sets, and animated with claymation - that is being released in chapters. The first two are now out, and I've played my way through them, meaning I'm fully qualified to tell you Wot I Think.
Wow. That's what I think.
The point and click adventure is certainly my first love in gaming, and of course my greatest source of disappointment. To play something like The Dream Machine, so exquisitely constructed, so smartly designed, and so atmospherically unique is a singular pleasure.
Just to play an adventure that doesn't frustrate you with ill-thought-through puzzles, or witless dialogue, is a treat. But The Dream Machine doesn't stand out because of its lack of messing up. It stands out for being such a fine example of the genre, one of the most interesting I've experienced.
And that's before you factor in the presentation. Hand-made sets, populated by stop-motion animated plasticine figures, like nothing I've seen before. Here's the development studio:
But what I love the most is how much of this game is set in the real world. The entire first chapter, beyond the opening scene set in a dream, is about a married, recently pregnant couple settling into their new apartment. Surrounded by boxes, and without their furniture having arrived yet, they improvise a breakfast around an upturned box.
You play as the husband, Victor, who has various chores to complete while his wife, Alicia, completes her own. You must get the spare key from the caretaker, which involves finding the phone, then his number. You need to talk to the movers, say hi to your neighbours, and investigate what the strange note you've found is referring to with regards to something hidden in the bedroom.
Sure, these seem mundane tasks, but it's the combination of the mundanity of real life set in the beautiful cardboard-and-clay world, with the honesty of the central relationship. And the latter is thanks to some brilliantly understated writing.
That's the real key here. There's no voice acting, so the dialogue is text on screen. And it's written with a rare precision. The relationship between Victor and Alicia is immediately believable, in a way gaming almost never offers. They talk like people. To quote The Longest Journey developer Ragnar Tørnquist, their marriage is "grounded, not melodramatic, not overly romantic, just... simple. Real."
Your elderly next door neighbour is equally convincing, as is everyone you meet. The only concession to exaggeration is the furniture mover, who has your couch stuck in the front doorway to the building, and doesn't seem to have a problem with that. But he's a fun parody, and again, calmly presented.
And that occupies the whole of the first chapter, around an hour or so long. There's a surprise at the end, intriguing enough to make you quite sure you want to play Chapter 2.
In the second chapter, and don't worry – I won't spoil anything the game's title doesn't give away – you encounter the dream machine. A device that allows you to enter dreams (and let's give credit to two-man Swedish developers Cockroach Inc. – this idea was in the works before Inception). And so of course here we leave the regularity of our own world and delve into the fantasy.
But it's because we just spent an hour in the real world that the diversion from it becomes so much more meaningful. It's a lesson so many developers need to learn, taught to deaf ears by Half-Life, and still mostly ignored to this day. As Victor explores the unconscious world, he carries with him his identifiability (if you'll forgive such a word) developed in his apartment, bantering with his wife.
But yet again, here things are so gently downplayed. A lovely multi-part puzzle across a number of screens is calmly delivered, and intelligently solved. There's no loud fuss, no "look at me!" delivery. It's a sedate game, delivering imaginative ideas without showing off.
Beyond presenting its central fantastical story, it grounds everything with a questioning nature, asking about the morality of the machine, and those who use it. And indeed the consequences of the practices behind its use for those who live in the apartment block.
Mention should be made of its music, too. Ambient, delicate, and dreamlike, it perfectly matches the setting.
The game will be five chapters long in total, the first two lasting around an hour each, and of course longer if you get stuck on a puzzle. There's no release date for the remaining chapters, arriving as they are finished. But you can buy the whole lot now for €13.75. Based on the quality of the first two parts, this seems a wise investment to me.
There's nothing else out there that looks like this game, and there's precious little out there that plays like it. It's a real treat. A moment toward the end of the second chapter, another surprise, had me gasp in a way that surprised me – I already cared enough about these characters to be emotionally involved. That's the best recommendation I can think of.