Minecraft Precusor Wurm Brings New Version To Steam
With offline mode and private servers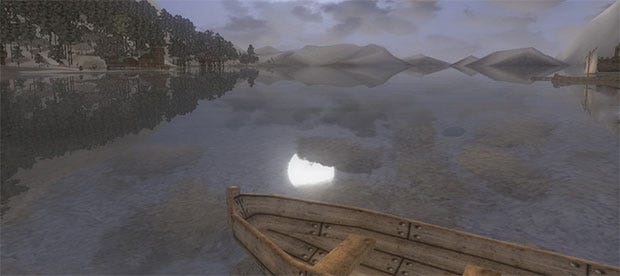 Wurm Online [official site] is the sandbox MMO co-founded by one Markus Persson back in 2003, but he left in 2007 to pursue other interests. You might have heard of one of them. While he hasn't been involved for years, you don't have to look far to see shared DNA in Wurm and Minecraft: Java-based, building-focused survival in an open world, where everything but the landscape is created by players. It lacks the immediacy of Minecraft (to say the least) and never saw anything like the success, but has its fervent fans - including Graham of this parish, and Quintin formerly of this parish.
Now, a brand new version/spin-off of Wurm is coming to Steam, with an offline option and private server support: does the mainstream await?

'Wurm Unlimited' is due to launch on 21 October. The devs claim that it is "pretty much a full copy of the current MMO engine with Steam integration", as well as new options for local play and private servers - a big change from the open, often brutal world of Wurm Online. This most likely means there won't be sweeping changes to Wurm's not especially friendly UI and presentation, and that it won't suddenly become capable of creating Minecraft-style spectacles. It's not about creativity in that way, but is instead more of a subsistence affair.
Nonetheless, devs The Code Club are clear that they want to open up a few hitherto closed doors: "The idea behind the release is to present the Wurm world to new players and also help players who never got into the game to experience it in a more relaxed way. Hopefully our current or previous players will find it entertaining as well."

Good luck with that, I suspect. RPS has received a few emails from anxious long-term Wurm fans, convinced that Wurm's glacial pace and hard graft is to be replaced with something high-speed and chummier. Building anything in Wurm Online takes forever even when you have a whole bunch of people co-operating on it, so the idea that a new solo experience would be the same seems highly unlikely. However, Online and Unlimited will co-exist, so right now the latter's changes don't necessitate any kind of doom for the former.
The community has brought up some more concrete practical concerns, however, including that Unlimited won't include any kind of terrain generator, instead launching with just two pre-fab maps. This sort of thing has hardly been an issue for other survival games (if we're happy loosely putting Wurm under that umbrella), but fixed maps clearly set it apart from Minecraft and most Minecraftbuts. The devs aren't blocking people from inserting their own maps, however: "You may however play around with it yourself and use any maps you manage to generate by replacing them in the game directory."
Community members are also trying to get together to come up with a terrain generator of their own. See progress (or get involved) here.
Wurm Unlimited will also include a new renderer, hopefully including some fixes which have long been promised for Wurm Online too.
Existing Wurm Online players won't be receiving a freebie or discounted copy of Unlimited, with the devs claiming that "We have no way of linking Wurm Online player accounts to Steam accounts unfortunately so we wouldn't know who to give a discount. We have no way of generating private discount codes on Steam and distributing to an email list either. There will be a general release date discount however."
Unlimited and Online will operate completely separately, though this hasn't stopped a whole bunch of long-term players from adopting 'Wurm RIP' avatars on the official forum. There are a great many questions about how all of this will work, however, some of which are being addressed here.