Yakuza Kiwami might be closer to a PC launch than expected
Crimesmas may just be coming early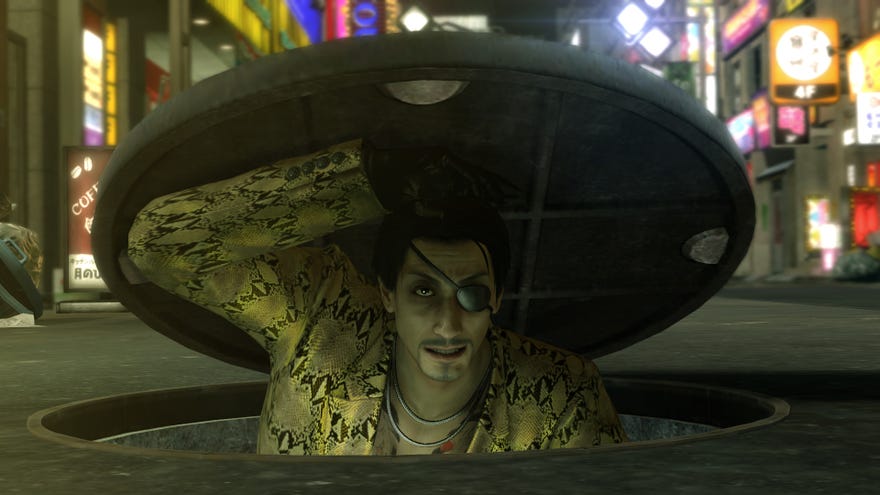 Best worst crime-dad Kazuma Kiryu might be making a return to PC sooner than expected, if the whirring coming from Steam's database is any indication. We've known for a while that Yakuza Kiwami (a remake of the first in Sega's brawl-o-RPG series) was headed to PC, following up on the successful launch of 80s-set prequel Yakuza Zero - we just didn't know when. As reported by VG247, folk on Twitter have spotted them loading launch tubes via SteamDB. Achievement lists are going up, keys are being prepped - here's hoping for a launch this side of chrimbo.
Even if you've only played the original game back in the day, you're likely in for a treat with Kiwami - they're rebuilt it from the ground up on the same foundations as Zero. This means that most of your fighting skills should carry over smoothly. The remake includes a bunch of new systems, like new mini-games, more quests, a bulked up combat engine and the brilliant "Majima Anywhere" system. Goro Majima was a bit of a mad dog in Zero, but in Kiwami he's utterly bonkers and obsessed with Kiryu, so you'll find him randomly lurking anywhere you go, disguised or just in hiding.
I've got my fingers crossed that Sega are properly committed to bringing the whole series to PC. Even if we're to to get Kiwami within the next couple weeks, Kiwami 2 was just released on consoles. Sega are also remastering Yakuza 3, 4 and 5, although they're not going to receive the full remake treatment that the ageing first two games saw. They also just rolled out a Japanese demo for Project Judge (also known as Judge Eyes), a spin-off that looks every bit as brill as the parent series. Don't believe me? Behold this compilation of Heat Actions, via "devilleon7" on YouTube.
Sega haven't released a date for it yet, but you should probably keep an eye on the Yakuza Kiwami Steam page. And if you've somehow not played Yakuza Zero, check out Edwin Evans-Thirlwell's glowing review here - the game's still going cheap (£10.04/13.99/$13.99) on Steam and Humble.