YouTube Gaming Announced, Launching This Summer
Based on a true story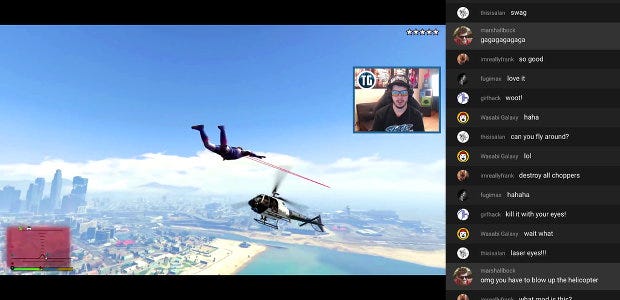 When all the websites got together for their spring barbecue last month, so I'm told, YouTube had a little too much to drink and caused a scene. "Who's beer is that?" the website would ask, teetering over the booze table. "BIG DADDY VIDEO'S BEER!" It claimed everything it saw - the barbecue, the grass, the jazz quartet - and even kicked Buzzfeed out the paddling pool. Except. When it claimed dominion over a gaming PC in the lounge, Twitch stared it down. "Don't you know who I am?" roared Big Daddy Video and Twitch twatted it. Out cold. One punch. So I'm told.
Perhaps in retaliation, YouTube yesterday announced YouTube Gaming to shore up and bring together gaming videos and livestreams and whatnot. Streaming might be less awful, for starters.
YouTube Gaming will bring a new dedicated website as well as an app. Unlike YouTube's usual system of scattering game videos all over the place, it'll give individual games hub pages. A screenshot shows game pages will bring together info about the game, live streams, official videos, let's plays, reviews, popular videos, and videos from folks you subscribe to. If you want to watch stuff about a specific game, there you go. Tell it which games you're into, and it'll bring videos to you.
Back to that true (so I'm told) story from the barbecue: YouTube are also improving their livestreaming offering, which is currently far worse than Twitch, Hitbox, and other dedicated streaming sites. You'll no longer need to schedule streams ahead of time, and they say it'll have lower chat latency and offer moderation. Good, good.
YouTube Gaming is due to launch this summer, initially in the USA and UK. No Oceans, Google.
In closing, I'd like to briefly highlight this hilarious line from this official blog post:
"And when you want something specific, you can search with confidence, knowing that typing 'call' will show you 'Call of Duty' and not 'Call Me Maybe.'"
You'll be able to search with confidence that autocomplete will never even suggest the existence of pop music. It's a confidence I know I've lacked in my life. Between that and the dark grey interface, you can be sure that it'll take video games very seriously. You're so silly, Big Daddy Video.
Oh wait no how did this g