Zenimax Is Arkane Studios' Dark Messiah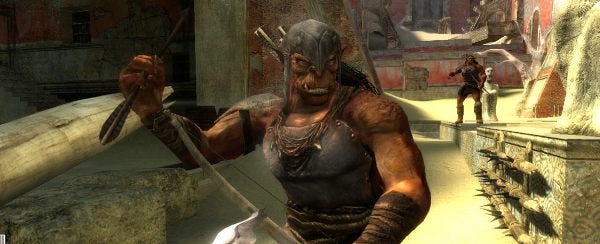 One of the stories to emerge from Quakecon was that Zenimax have got their corporate cheque-book out again. Following Id into Bethesda's masters maw is Arkane Studios, who you'll know from Arx Fatalis, Dark Messiah of Might And Magic and doing work alongside 2K Marin on Bioshock 2. To state the obvious - with Id, Bethesda and publishing Splash Damage's Brink, this helps cement Zenimax as a major power in that PC-centric PC/Console developed game area. By which I mean, traditional PC games which are now developed for both (and so provoke comment thread - aha! - Rage for merely existing). The press release follows and if you want to try and work out what Arkane are actually up to, our interview with Raphael Colantonio and Harvey Smith is where they lay out their current thinking best. Though I would say that.

ZENIMAX MEDIA ACQUIRES ARKANE STUDIOS

Veteran Studio Joins Bethesda Game Studios and id Software as
an Internal Studio for Bethesda Softworks

August 12, 2010 (Rockville, MD) – ZeniMax Media Inc., parent company of noted game publisher Bethesda Softworks, today announced it has completed the acquisition of veteran game developer Arkane Studios.

Founded in 1999, Arkane has offices in Lyon, France and Austin, Texas and is led by co-creative directors Raphael Colantonio, Arkane's founder and CEO who will also serve as president of Arkane, and Harvey Smith, lead designer on Deus Ex. Arkane's first title, Arx Fatalis, was released in 2002 and became a fan favorite with its highly detailed environments and innovative gameplay. In addition, Arkane developed Dark Messiah of Might and Magic (PC version), and has collaborated on a number of high profile game projects, including Bioshock 2. Arkane is currently working on an unannounced project with Bethesda Softworks.

"This is an exciting moment for Arkane. After 11 years of independent development, we couldn't think of a better publishing partner," said Colantonio. "We share so many creative values. Joining the ZeniMax family will allow us to grow stronger while staying true to the games we love."

Arkane joins of group of development studios which includes id Software and Bethesda Game Studios, two of the finest, most respected videogame developers in the world. This deal further underscores Bethesda's commitment to delivering premier titles to gamers worldwide.

"We are very pleased to be able to bring another experienced, high quality developer like Arkane to the ZeniMax group of studios," said Robert Altman, Chairman and CEO of ZeniMax Media. "Raphael and his talented team have earned a reputation for creating immersive, innovative games which enhances our ability to deliver AAA quality games to our many fans."