Zombasite: Orc Schism expansion announced
Get zombed on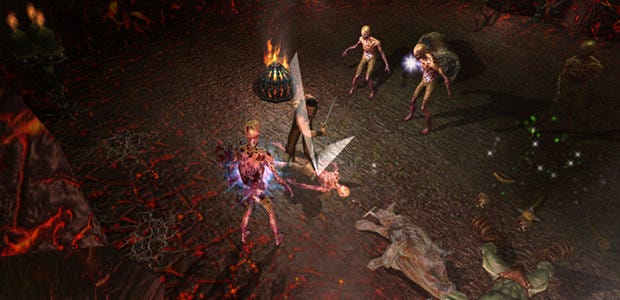 The one-man action-RPG army that is Steven Peeler of Soldak Entertainment has announced the first expansion for Zombasite [official site], the action-RPG set in a fantasy zombie apocalypse. Named Orc Schism, it'll introduce three monstrous factions of Orcs as well as a Bard class for folks who want to sing about the end of the world as we know it. It's due some time this summer.
So the story goes, orcs were accidentally created by a necromancer trying to resurrect elves. Whoops-o. When the Zombasite parasite arrived on the scene, orcs change as the orc, elf, and zombie fought inside them. Depending on which side prevailed, they became savagely orcy dark orcs, elven Mutated, or zomboed Zombie Lords. Those three lots will arrive in the world of Zombasite with the expansion, which means you'll probably have to fight 'em.
Here are the hot Orc Schism feature bullet points from Soldak:
Play the Bard class (Minstrel, Illusionist, and Sage specialties) (now 333 total class combinations)
Control the defense of your town
Fight new monsters (Dark Orcs, Mutated, & Zombie Lords)
Solve many more quests
Defend and explore random towns
Explore new area types
Fight with and against new clans
We've not had a proper look at Zombasite but Alec did have a go back when it was still in early access. It's an action-RPG, see, set in a dynamic world where monsters and NPC factions have their own goals and motives that'll shape the world. Alec found the dynamism somewhat unexciting, though he did note that might change with the full release. How has it turned out, gang?