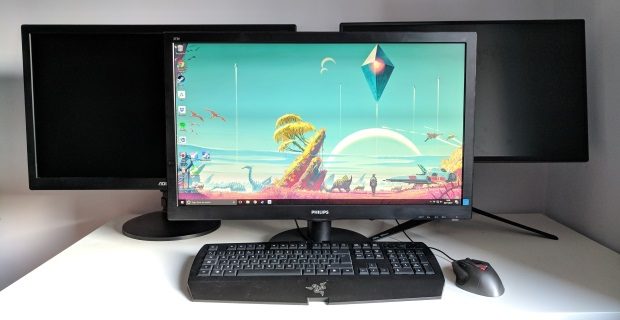 Your monitor is one of the most important parts of your PC, so finding the best monitor to suit your needs and budget is vital. Take a look at the display section of any electronics retailer, though, and you'll find hundreds of screens costing anything from £70 right up to £1500. The range of models and prices can be overwhelming, but this guide is here to help.
We'll take you through everything you need to know about screen sizes, resolutions, refresh rates, panel types, inputs and adjustable stands, as well as provide a few recommendations of our own based on our own testing. By the time you're done here, you'll be fully equipped to find the best monitor for you. Let's begin!
Below, we've got a list of our current best monitors, ranging from entry-level displays all the way up to fancy, high-refresh rate mega monitors. We'll be adding more monitors to this list as we get more in for testing, but if you'd rather skip straight to our monitor buying guide, hop on over to page two right here.
AOC G2460PF
Key features: 24in, 1920×1080, TN, 144Hz, AMD FreeSync
This 24in gaming monitor was a steal when it was just £170 over Black Friday, but even at its more regular price of £215, this is still an outstanding 24in display. Image quality is superb for a TN monitor, and its high 144Hz refresh rate and AMD FreeSync support help make games appear smoother and less juddery to play. It's also got a full suit of inputs (VGA, DVI-D, HDMI and DP), a four-port USB hub and a flexible, height adjustable stand.
Read our full AOC G2460PF review.
Buy now from Amazon UK or Newegg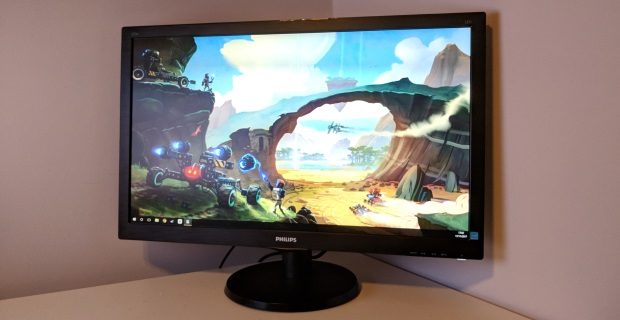 Philips 273V5LHAB
Key features: 27in, 1920×1080, TN
The Philips 273V5LHAB is a pretty straightforward 27in Full HD monitor. While its resolution of 1920×1080 isn't ideal for a screen this size, you certainly can't argue with its price. At just £150, this is an excellent way to get a big screen without spending an arm and a leg on something like our current favourite 27in monitor, the Acer XF270HUA (below). Image quality is also excellent for a TN panel, and you're unlikely to find a better-looking screen for less.
Read our full Philips 273V5LHAB review.
Buy now from Amazon UK or Newegg
Acer XF270HUA
Key features: 27in, 2560×1440, IPS, 144Hz, AMD FreeSync
Acer's XF270HUA has been out for a while, but this 27in 2560×1440 monitor is hard to beat. Its IPS panel produces a stunning picture (as you'd expect when you're spending £500), and its 144Hz refresh rate gives your graphics card plenty of headroom to push past that all-important 60fps mark. Throw in a range of inputs, a highly ergonomic stand and a blissfully tasteful 'gamer' design, and you've got yourself a winner.
Read our full Acer XF270HUA review.
Buy now from Amazon UK or Newegg