A Kraken Good Time: Risen 2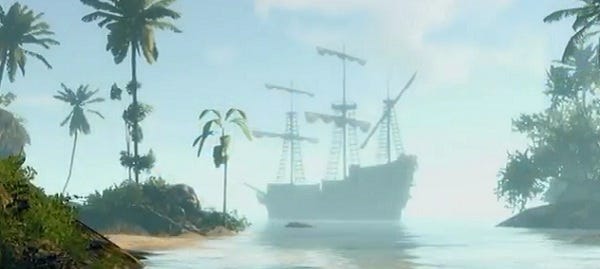 I'd love to be a pirate. Not a real one because I don't think I'd enjoy murdering strangers to make ends meet, but I can certainly see myself drinking rum on a tropical island. Essentially I want to go on holiday somewhere warm and tranquil, and despite the mythical sea beasties, slavery and violence, Risen 2 is set in the kind of island paradise where a man could spend an eternity watching clouds lazily drifting across the sky, galleons sharply cutting through the calmness of the waters and lead shot efficiently puncturing the rear of a rear admiral. Judging by the video below, people are going to expect me to do more than bask in the sun though. Shame.
All these higher purposes and unknown journeys sound like they might be exhausting but I'll agree that it looks like a world worth fighting for. If only someone else would do all the fighting so I could just kick back and enjoy the scenery. Jim quite enjoyed waving his sword at monkeys and spiders (but not, presumably, spider monkeys) though so maybe I'll be happy to join in with the fighting. World in turmoil or not though, I'll mainly be in it for the beaches.