A Space For The Unbound's short demo has carved out a big space in my heart
Big Makoto Shinkai energy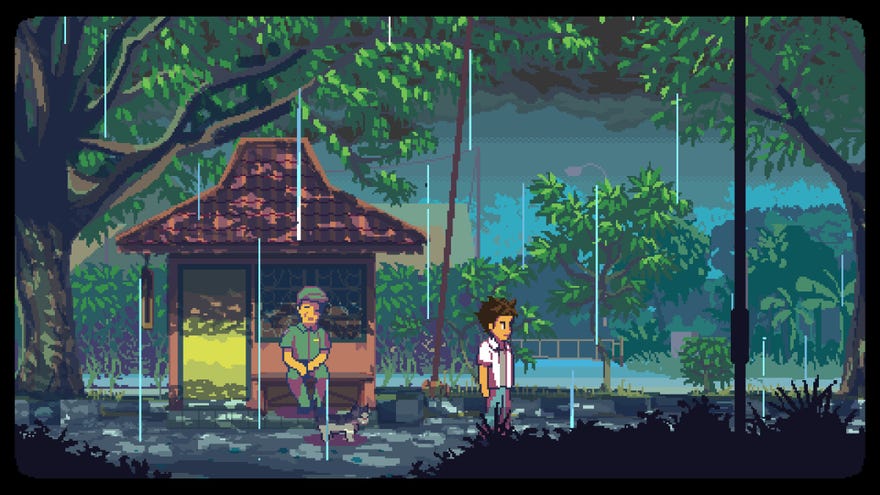 Ever since I played the moreish reverse tower defence delights of Necronator: Dead Wrong at EGX 2019, I've been keeping a watchful eye on Indonesian developer-publisher Toge Productions to see what else they've got in their surprisingly eclectic line-up of games coming out over the next few months. I'm really looking forward to their chill, coffee-making visual novel Coffee Talk, for instance, and after playing their recently-released prologue demo for Mojiken Studio's upcoming slice of life adventure game, A Space For The Unbound, I'll be adding that one to my list as well.
It's a charming pixel art adventure game set in rural Indonesia in the late 90s, and it follows the story of a boy called Atma and his young friend Nirmala. At the beginning of the demo, they're trying to finish writing a story together, but by the end of it Atma will have "space-dived" (space dove?) inside the minds of both Nirmala and a sleepy civil defence officer guarding a puzzle-critical ladder, petted some cats, acquired a mix-tape of keroncong music, and escaped the wrath of Nirmala's angry dad. It's a lot to pack in to 20 minutes, so come and let me tell you more about it. Did I mention it had very good cats?
A Space For The Unbound has big Makoto Shinkai energy, specifically his popular 2016 animated film, Your Name. It doesn't feature any cross-gender body-swapping antics, but its rural Indonesian setting, school kid protagonists and hints of a huge comet hurtling past Earth put me in very much the same mindset as I was playing the demo. Have a watch of the trailer to see what I mean.
It's not yet clear what role the comet will play in the full game, but if the giant winged cat creature that appears from it in the trailer is anything to go by, there will probably be a touch of the supernatural about it. Until then, though, there's a lot to admire in this sleepy little town. Its dense pixel art is jam-packed with detail, from the meandering citizens going about their daily business to the way the bright sunshine casts intermittent shadows on your clothes as you pass under leafy boulevards. Its piano-led score tinkles playfully on top of soothing synths, too, adding to its relaxed, easy-going atmosphere.
However, it quickly becomes apparent that something isn't quite right in this sunny little town, suggesting a hidden darkness lurking beneath A Space For The Unbound's sunny exterior. As Atma approaches Nirmala's house to fetch her Magic Wand - a crucial item for finishing the space ship in her story - he overhears a conversation between Nirmala's mum and her neighbour lamenting how Nirmala has recently been afraid to go to school and that she's been shutting herself in her room, much to the chagrin of her stressed out (and likely abusive) dad.
The neighbour offers her support, reinforcing that friendly, close-knit community vibe you see elsewhere in the game, but it all comes crashing down again when Atma gets a taste of her dad's wrath as he goes to retrieve the wand. Indeed, Mojiken Studio themselves say the game is "about overcoming anxiety and depression" in the game's Steam description, so I wouldn't be surprised if things took a turn for the worse between Nirmala and her family later in the game.
Still, I doubt it will be all doom and gloom, if only because of Atma's strange "space dive" ability. Using Nirmala's magic red book, Atma is able to enter the hearts and minds of those around him and fix whatever's ailing them, whether it's by putting their mind at ease, as he does with Nirmala, or getting them to let go of their hang-ups, like he does with the sleep-deprived defence officer who feels beholden to his job.
Each 'dive' contains a small, simple puzzle, requiring you to interact with what's in the scene and use items from your inventory in order to progress the story and return to the real world. The pair of dive sequences in the demo don't require much brain-power, admittedly, but both of them are thoughtful and well-realised manifestations of their respective character's inner turmoil, and I look forward to seeing where else the game ends up taking us as it goes on.
There's even a suggestion that the slice of life we see in the demo might not even be real at all if the prologue's cliffhanger ending is anything to go by. As Atma rushes back to Nirmala with her wand, a storm breaks out and Nirmala gets washed into the local river. Atma finds her clinging to some driftwood, but as he reaches out to save her he ends up falling in himself, getting carried away by the currents. Then, all of a sudden, he's back in school behind his friend Raya. Was it all a dream? Maybe it was a flashback. We'll just have to wait and see.
Either way, A Space For The Unbound's Prologue demo has definitely got my interest piqued. I'm a sucker for anything that vaguely puts me in the mind of Shinkai's films (seriously, that man's film have some positively swoon-worthy skies), but its small town setting and childlike fantasy elements also remind me a lot of Earthbound and 3DS curio Attack Of The Friday Monsters as well, which is always a good thing in my books.
Indeed, I want to find out more about this pair of school kids, who they are, how they became friends, and what happens to Nirmala and her family if, and when, she manages gets home after the storm. I want to see more of Atma's space dives, too, and most importantly, I must, nay, NEED to pet more of the town's lovely, purring cats. So why not give the demo a try for yourself and see if you agree?