Devolver Digital Announce Online Combat RPG Absolver
Unmasked in 2017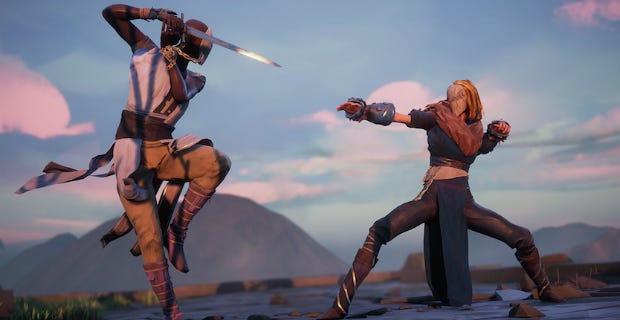 Sloclap, a recently-formed indie studio made up of ex-Ubisoft fellows, have today announced their debut project: Absolver [official site]. Devolver Digital are publishing this uber-stylish martial arts-inspired "online combat RPG" affair and, although a distinct step away from their usual pixellated roster, this one looks equally cool. Let's have a look, shall we?
Lots of grunting and gasping going on behind those masks, but I suppose there's a suitably fantastical narrative to match all that witchcraft and fast-flying swordpersonship? Of course there is. Here's the word from Devolver:
"Absolver puts players behind the mask of a Prospect, who has taken a sacred vow and chosen to join the Absolvers, an elite corps of combatants fighting to maintain stability in the world. Monitored by the Guides, the new rulers of the fallen Adal Empire, players will wander these forsaken lands and encounter other Prospects online in order to learn their place in this world and eventually become Absolvers. Along the way, they will learn new combat styles and attacks, and acquire better weapons, powers and armor."
Oooh, sound mysterious. Less ambiguous, though, is how you'll tinker with Absolver's systems. Everything from combat styles to weapons are said to be customisable - so too are attack sequences housed within players' Combat Decks. Although that there trailer has hints of magic, Sloclap creative lead Pierre de Margerie says melee is the game's focus. "We think the world would be a much better place if there were no guns," he says. "Then we could finally focus on important things, like sword fighting and how to kill a man with one punch." Blimey.
Dedicated combat arenas will let you train your one-punch killing prowess as far as PvP goes; whereas PvE will have you joining pals in the mines of Adal.
Nothing beyond a tenuous "2017" release date as yet, however Absolver is expected to make an appearance at E3 next month.
[Disclosure: our own Alec contributed some words to Absolver, but he didn't even know Devolver were publishing it until yesterday, so he's as surprised as you are right now. He'll probably tell you all about his scribblings himself before too long, if he's feeling extra-brave.]