Absolver's next free update channels the great Bruce Lee
Enter the Dungeon (and Dragon)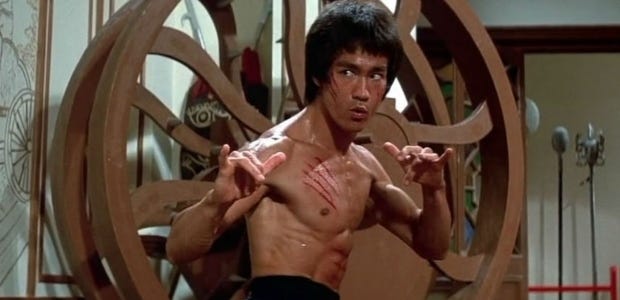 Absolver, much like its cast of masked pugilists, is a fighter. Sloclap's stylish online brawler-RPG was plagued with server and balance issues through its first few months of life, but the studio believed in it, and haven't given up. For a while, the studio have been working on a major new update centred around a PvE mode featuring new environments and enemies, buffed up with fresh AI. Today, they teased that the reward for besting these new foes would be a fifth fighting style, inspired by one the greatest martial artists of the past century.
While it had been teased some time ago that a new fighting style was on the cards for the coming Absolver update, I think this is our first time seeing the new combat animations in action. From the tiny clip below, it's immediately obvious that the new style is Jeet Kune Do, invented and made famous by legendary martial artist Bruce Lee. It's a form of combat famous for its smooth movement and sharp strikes. There are no extraneous flowery poses in this style, just bone-shattering impact.
An untapped power resides deep in the Adalian Mines…

Master the fifth combat style in Absolver's upcoming update. pic.twitter.com/Xw89T4PFbL

— Absolver (@Absolver) June 8, 2018
Those of you too young to have boned up on your martial arts legends might also recognise the fighting style from Cowboy Bebop, where it was used by stylish space-rogue Spike Spiegel to great effect in a number of beautifully animated fight scenes. His take on it tends to involve a lot more movement, but those confident, powerful strikes are still there, with his famous ability to roll with the punches also being part of the style. Also, I just realised Cowboy Bebop is 20 years old... Yep, I'm getting on in years. Still cool though.
Here's hoping for a bo-staff variant to the fighting style as well, because sometimes you just need to walk softly and carry a big stick. While no release date has been announced for the upcoming big update, I'd hazard a guess that it's going to launch either in parallel with or slightly before the upcoming Xbox One launch of the game. So, who else is going to be dusting off the game for another round of fist-to-faceicuffs when the update drops?
For those wanting to jump in now that the kinks have been knocked out of Absolver, the game is currently half price over on GOG, bringing it down to £12.59/$30.