Video Offers Tiny Peek At More ABZÛ Gameplay
Water stunner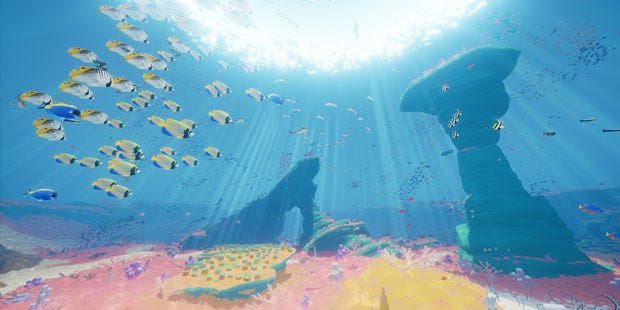 The ABZÛ [official site] E3 trailer was one of my highlights of the show with its colourful underwater world, lovely soundtrack and promisingly fluid movement. There's now a slightly extended trailer online showing more in the way of gameplay. If you watched the E3 one which I posted a LOT of the scenes will be familiar but there are some slightly extended sections which show you a bit more of the world and a touch more of the view which looks like someone definitely playing:
You can see some of the actual swimming at 1:00, 1:26 and 1:53. I also really liked the extended look at the behaviour of what look like a stylised version of splendid garden eels from about 1:43. They're the long grass-like creatures poking out of the sand which whip back in as the diver passes overhead. Similarly there's caution from the feather duster worms at about 1:34 as they retract and then pop back out of their tubes when the danger has passed.
No idea how that will manifest when you're in control of the diver and swimming about, but it was nice to get a better look at the animations in the video even if you don't see them/don't see them much in the game.