Ace Combat 7: Skies Unknown locks on to a February 1st release date
Now with slightly less Penal action.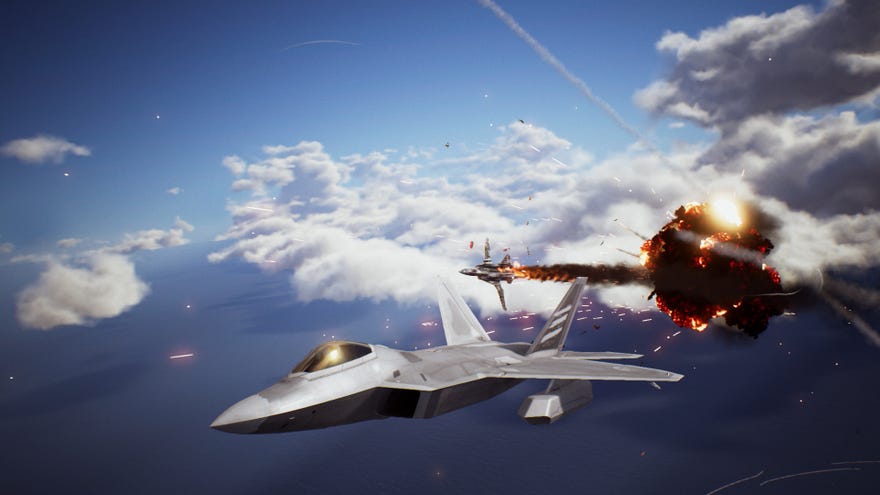 If we're not counting spinoff Assault Horizon (and we shouldn't), Ace Combat 7: Skies Unknown is set to be the first in Bandai Namco's long-running air combat series to land on PC. Due out on February 1st, it promises melodrama and dogfights, wrapped up in an alternate earth setting filled with familiar aircraft plus the occasional flying sci-fi battleship. Below, a new trailer from Gamescom, giving us a glimpse at its cutscenes, characters and some of the weapons of war featured in the game.
While the Ace Combat series has had sci-fi elements before (and Ace Combat 3 went all the way cyberpunk), the seventh looks like it's doubling down on the future technology. While the planes you're flying are real-world models, I've spotted laser and railgun weapon mounts bolted onto them. The large drone-carrying airships are also equipped with some kind of anti-missile shield, although if the series has taught me anything, that's just an excuse to get up close and use your main gun.
Story-wise, Ace Combat 7 puts players in the shoes of a Penitentiary Unit pilot. An entirely disposable force of convicts, sent into the skies in old planes to defend their country or die trying. Not exactly the best position, but these aren't the most realistic games either, so even an old 1980s airframe is capable of lugging around over a hundred missiles. In the meantime, those wanting a taste of something similar might want to check out the demo for Project Wingman, a very Ace Combat-inspired game in development by a tiny indie team.
Bizarrely, the collectors edition of Ace Combat 7 on consoles is launching with an officially branded Thrustmaster HOTAS controller. While listed as compatible with PS4 and Xbox One, I'm hoping for PC support too. Fingers crossed, although it's no big loss if we don't get it - as nice as it feels to wrangle a huge flight-stick, Ace Combat just plays better on a smaller controller.
Ace Combat 7: Skies Unknown will be launching on February 1st, with a console release a couple weeks earlier. You can find more details on its official site here.