Aha: Take On Mars Adds Manned Mission
A godawful small affair?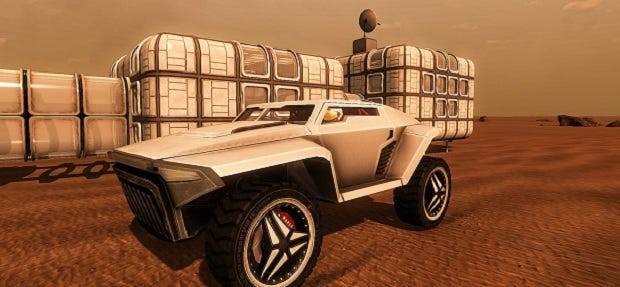 Bohemia have accomplished what real life scientists and government funding bodies cannot - exploration and colonisation sim Take On Mars now features a manned mission. I hadn't realised that the previous build of the Early Access version only allowed players to send a probe to the puce planet, but that's no longer the case.
Today's update lands the first human marsonauts to Take On Mars. With access to a manned science buggy, featuring an interactive 3D GUI, one of their first objectives will be to explore the huge new Cydonia Mensae location, which spans 8x8 kilometer of Martian terrain. A 3D printer enables marsonauts to construct various parts, which can be put together via the Habitat Construction System to form buildings and installations.
The term 'marsonauts' dropped in among the other words makes me instinctively shudder, as if I were looking at a sea of human faces and suddenly spotted a Brundlefly.
Prepare for a picture of the stiffest limbs since that one awkward cousin last danced at a wedding.