Alan Wakes Up A Rich Man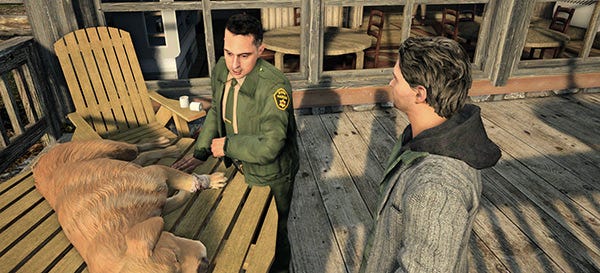 Alan Wake might not be an unqualified success as far as survival horror games about narcissistic fiction authors go, but it's a well-intentioned affair that very much did the technical legwork for its recently uncancelled PC version. And it's paid off for Finnish developers Remedy, who report that Alan Wake PC was profitable within 48 hours of release.
PC! Profit! Do you hear that, publishers?

Offered Remedy's Aki Järvilehto on their forums, "We are very happy with the sales and hitting #1 on Steam at launch was nothing short of amazing. We recouped our development and marketing expenses during the first 48 hours. And yes, we're certainly very excited about PC."
While any reading of this depends somewhat on how much additional expense and manhours was necessary to convert an existent game to PC, it's clearly still SUPERHAPPYFUNNEWS. And hopefully will change Remedy's latter-day 'oh, er, not sure' stance on PC into a full-on 'ooooh, baby.'
Alan Wake's American Nightmare to head this way too, then? This standalone, more action-heavy side-game is garnering respectable reviews from the console folk so far, though is apparently less ambitious than its parent game.