AMD's THREADRIPPER is not a name I created?
Coming in August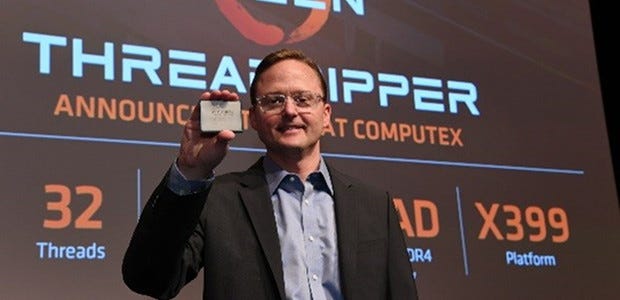 THREADRIPPER, I have only just discovered, is the dramatic name of AMD's new high-end processor line launching in August.
My immediate questions are: when did AMD hire me and why can I not remember?
I'm sure AMD have some very talented copywriters and productnamers but when they name a processor THREADRIPPER and declare their CPU launch schedule to be an "onslaught" I know that it must have been written by me.
Me, who coined 2016's smash-hit slang name for a fast PC, "silicon-snorting framecrusher". Me, who's tipped for Time Person of the Year 2017 for creating its opposite, "digestive-dunking framenudger". Me, who says things like "pigrig ... ripped full of beef with chops to spare". Me, who writes this garbage every damn day.
Why can't I remember THREADRIPPER? It must have been me. It couldn't not have been me. AMD announced Threadrippers in May, when I was... where was I? Why can't I remember?
AMD's Jim Anderson, the SVP and GM of computing and graphics, today announced prices and details and things for the superstar Ryzen Threadripper 1950X. The THREADRIPPERS!!! are due in early August. Here comes the science bit, concentrate:
"You know about its 16 cores and 32 threads, but it also delivers a 3.4 GHz base clock and a 4.0 GHz boost. And I'm happy to say we've priced the Ryzen Threadripper 1950X at a suggested retail price of USD $999, bringing incredible price/performance ratios to the High End Desktop (HEDT) market. Joining the 16-core CPU will be the Ryzen Threadripper 1920X, which packs 12 cores and 24 threads, a 3.5 GHz base clock and a 4.0 GHz boost, at a USD $799 suggested retail price."
THREADRIPPER!
It must have been me. I don't know what caused me to forget but, just in case this happens again, I am registering every dreadful name currently sloshing round my head:
Tickthrasher™
Boxbuster™
Monsterherz™
Pinchoker™
Rigrash™
Dataduke™
Corecano™
Bitbasher™
Datadeglover™
Gamelord™
SIMDslammer™
Threadchugger™
Processprolapser™
Loadmother™
Cachechamp™
Bitbutch™
Proghuffer™
Bytegouger™
Framechomper™
Beefblaster™
Sockethog™
I'm watching you, AMD. And don't you get any ideas, Intel.