Ancient Enemy is a British folklore card battler from the Shadowhand devs
Slay the Barghest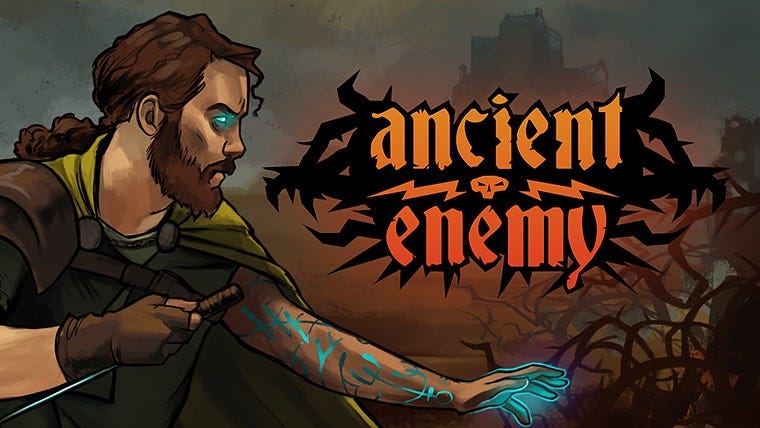 I don't think I've made many enemies. I might have accidentally cut in front of someone in a queue for some loos last month, but I imagine they're less cross than the "dread nemesis waiting patiently in the dark fastness of a monstrous citadel" for the protagonist of Ancient Enemy. He's a fallen mage "awakening from centuries of slumber", so I'm glad we've decided to stick with our respective foes.
Ancient Enemy is an upcoming card battler from the Shadowhand and Regency Solitaire devs, this time collaborating with Jim 'never heard of him' Rossignol. It's inspired by British mythology and the Mabinogion, so anyone that's heard of that can start feeling smug.
"The idea is to iterate on what was successful about [the] last two games", tweets Shadowhand creator Jake Birkett, but "to hit the market more squarely with this one". So, what can you expect?
"Expect card battling, visceral fights, mixed with bleak and evocative folklore! Loot the fallen to fill your hero's RPG-style inventory with collectible cards, capture strongholds and gather talented henchmen. Only powerful magic and iron determination will enable revenge upon your ultimate foe."
Here's the thing: Brendy really didn't get on with Shadowhand. He felt that an overwhelming degree of luck left little room for meaningful decision-making, so it sounds like the new combat system would have to veer far away from the old to lure me in. Fortunately, the announcement post from Grey Alien Games suggests it might.
There's this line about how "the new, faster, turn-based combat puts the focus on the player's choices", but those are just words. Crucially, they're backed up by an idea - "your enemy's next move is revealed, and you must respond accordingly". That's an idea that's so good Alex Wiltshire dedicated an entire Mechanic column to why it's the secret behind Slay The Spire's success, and I agree with him.
Poking into British mythology that sidesteps King Arthur intrigues me more than highway robbery in Austen-land, too. Especially when Rossignol is doing some of the poking - The Signal From Tölva epitomises "bleak and evocative".
All of that had me sold even before I googled the artistic talents of Jen Pattison, who's also on board. When this Ancient Enemy reveals more of itself, I'll be sure to let you know.
It'll be out some time next year.
Disclosure: Jim Rossignol was a founding member of RPS, but I've never met him.