Any Fort In A Storm: New TF2 Maps Out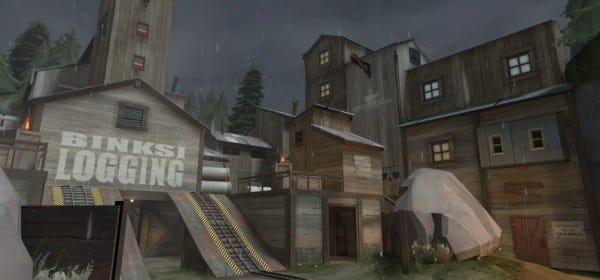 The latest patch for Team Fortress 2 is out, fixing one server crash exploit and added THREE new maps. Yes. But not made my Valve. No. Nightfall (seen above), Lakeside and Frontier are three accalimed community made maps, and if you'll let me I'll walk you through all three in turn. Nightfall by Aaron "Psy" Garcha is set in a lumber mill during a storm, just like Sawmill, though unlike Sawmill it's a Payload Race map. What are the others? Just GIVE ME A MINUTE, wil you? We'll get there.


Frontier by Patrick "MangyCarface" Mulholland is a single stage Payload map featuring the custom train you see above, which goes by the name of Lil' Chew Chew. Lil' Chew Chew is rideable, features a built-in Dispenser, and if at least three players are pushing it then the jaws at the front will instantly kill any players in front of it. Impossible, you say? Hard to believe? Why not give Frontier a try and see for yourself.
Finally, Lakeside by Valentin "3DNJ" Levillain is a King of the Hill map which I'll just let speak for itself.
In 2630 BC, the ancient Egyptians hauled up massive amounts of stone from this dig site for their pyramid-shaped tombs. Now, millennia later, honor their effort by filling those tombs to brimming with bullet-riddled, shrapnel-filled corpses in this fast-paced King of the Hill map.
Boom! Go forth, children. Go forth and kill.