AOC U2879VF review: 4K gaming on the cheap
The 4K monitor to beat this Black Friday?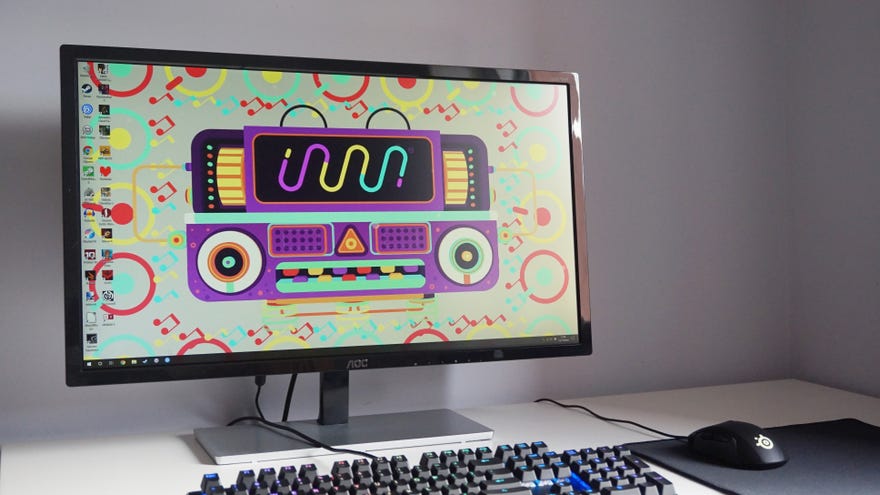 The best gaming monitors with 4K resolutions often cost an absolute fortune these days, mostly because of all the RGB bells and Nvidia G-Sync whistles that tend to accompany them. The delightfully plain 28in AOC U2879VF, however, sits at the opposite end of the spectrum, ditching several of the fancy extras you'd find on your typical 4K 'gaming' screen in favour of a lower price: £273 / $277 at time of writing, with further discounts to be had over the ever-wonderful Black Friday period. Is it worth taking the plunge when the deals train comes around? Let's find out.
There are, naturally, a couple of compromises to be made on a 4K screen at this price. It has a TN panel for starters, so colour accuracy isn't going to be amazingly high, and its black, glossy, plastic bezel both looks and feels a bit cheap compared to its weighty silver base. You're also only getting a fixed stand instead of a height-adjustable one (though you do get a bit of forwards and backwards tilt), and its refresh rate is a regular 60Hz instead of anything higher.
Still, I'd argue a 60Hz refresh rate provides more than enough headroom for most graphics cards these days, and AMD graphics card owners also get the added bonus of FreeSync support, too, which will help eliminate any stutter or screen-tear if the frame rate starts to struggle a bit. Another nice extra is that every single one of its ports are nice and easily accessible round the back instead of being hidden inside an annoying alcove, making it easy to set up regardless of whether you're connecting a DisplayPort, HDMI, DVI or VGA.
About that image quality, then. It's been a while since a TN monitor's crossed my desk - most have either been IPS or VA screens in recent months - but it was immediately obvious which type of panel the U2879VF was in possession of almost as soon as I switched it on. Its viewing angles were noticeably narrower than other monitors I've reviewed lately, and even the slightest shift of my head to the side was enough to produce a shift in colour and overall contrast.
The same goes for its vertical viewing angles as well. Luckily, I found the amount of tilt on offer was more than enough to fix any problems here, but it might be more of a problem if you're particularly tall where the forward tilt might not be enough to compensate the steeper angle you might need.
For the most part, though, the viewing angle issue was easily dealt with. More problematic was its lacklustre colour accuracy. There's plenty of brightness on offer - up to 355cd/m2 by my X-rite i1 DisplayPro's measurements - and its contrast is pretty decent (917:1, if you want to be exact about it), but on its default settings (the Standard Eco mode paired with the Warm colour temperature setting), the U2879VF is only capable of displaying 88% of the standard sRGB colour gamut.
This isn't terrible for a TN screen. If anything, it's positively average. It does mean, though that colours appear a little washed out at times, and that they lack a sense of warmth and depth.
Fortunately, it doesn't take much to improve on that figure of 88% as long as you're willing to put up with AOC's mildly frustrating onboard menu system. You'll want to leave the Eco mode on Standard, but if you drop the Shadow Control setting down to 40 (another hangover from AOC's proper gaming monitors that brightens/darkens the screen to help you spot any nasties hiding in the dark) and switch over to the User colour temperature to tweak its green value a bit (43 provided the best balance against its red and blue values of 50, according to my i1), you'll push its sRGB coverage over the 90% mark to a much more pleasing 91.4%.
Once I'd done this, colours looked a lot more lively. Perhaps still not quite as vibrant as some other TN screens out there (or, indeed, IPS or VA monitors), but it's definitely better than languishing around the 88% mark. Indeed, the autumnal landscapes of Assassin's Creed Odyssey looked perfectly lovely in the U2879VF's newly calibrated state, as did the bright, primary colours of comedic point and clicker Chuchel and puzzling point and clicker Gnog.
The only real problem is that the similarly-priced BenQ EL2870U is also being discounted this Black Friday and can currently be snapped up for just £240 in the UK (it's still $450 in the US, but that may change in the coming days). This is another 4K TN screen with AMD FreeSync support, but does 91.2% sRGB coverage straight out of the box and has a simpler, easier to use menu system to boot. If that wasn't convincing enough, the BenQ has the added bonus of HDR up its sleeve, too - a rather average implementation of HDR, all told, but that's still more than can be said of the AOC.
Of course, with AOC's Black Friday deals yet to kick in, it's difficult to say whether it's going to end up being cheap enough to make it worth picking over the BenQ. At £273 / $277, it's certainly a decent way of getting a lot of pixels per penny, but I suspect that even with a hefty discount applied, the BenQ EL2870U is probably the better value screen overall - at least in the UK. I'll update this verdict in the coming days if the U2879VF is suddenly available for silly money, but if you're looking for a 4K monitor on the cheap this Black Friday, I'd advise sticking with the BenQ.
Be sure to check our regularly updated Cyber Monday gaming monitor deals hub page for even more deals on gaming monitors over the coming days, too.