Aperture Tag Is A Whole New Portal Game... Without Portals
Paint the dystopic death lab red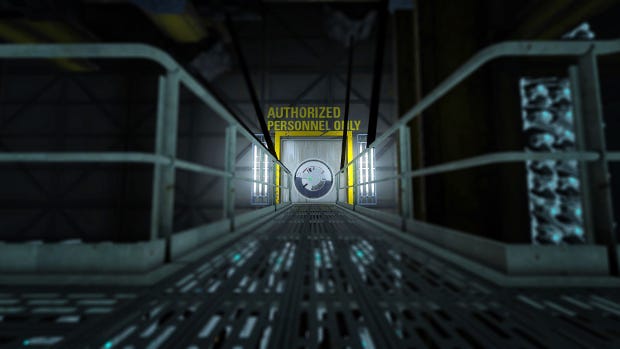 A Portal game without portals? "Why, that's like removing puppies from the Puppy Bowl," you might say. "What is even the point?" The point, fellow small dog enthusiast, is paint. Physics-affecting paints (think bouncy gel, etc) were part of Portal 2, but they weren't the main focus. Paid standalone mod/game Aperture Tag: The Paint Gun Testing Initiative puts them front and center, and it looks like sticky, slippery, hundreds-of-feet-in-the-air-hurtling fun. It's out now, and a trailer's below.
If this all-gels-no-portals business sounds familiar, that'll be because it's inspired by Tag: The Power of Paint. A puzzle-platformer about using different colour paints with special effects like running fast or across walls, it was created by students who then joined Valve to work on Portal 2.
Aperture Tag isn't just a series of challenges. Its 27 levels come nicely bundled up in a new story with its own fully voice acted personality core. It's technically a mod, so you'll need to have Portal 2 installed to play it. However, it's been given Valve's oft-sought-after lambda of approval to carry a price tag, so it'll run you $6.99 on Steam, though it's currently on sale with 30% off that.
If you buy Aperture Tag, all of your dreams will come true or you will get these things. I forget which.
New Gameplay Mechanics for Portal 2
27 Original Maps and a Full Campaign
A New Character with Original Voice-Acting
In-Game Level Editor
Single-Player and Co-op Workshop Integration with Source Instances to create your own Paint Gun Maps
Steam Trading Cards
Full Developer Commentary
Completely original Soundtrack by Abarax, Harry101UK, and Christopher McEvoy
It's available on Steam. Ready to paint your own Sistine Chapel and then slide across it while bellowing, "wheeeeeeeeeeeeeeeeeeeee"?