Apollo Justice: Ace Attorney Trilogy will make its PC debut next January
More than fine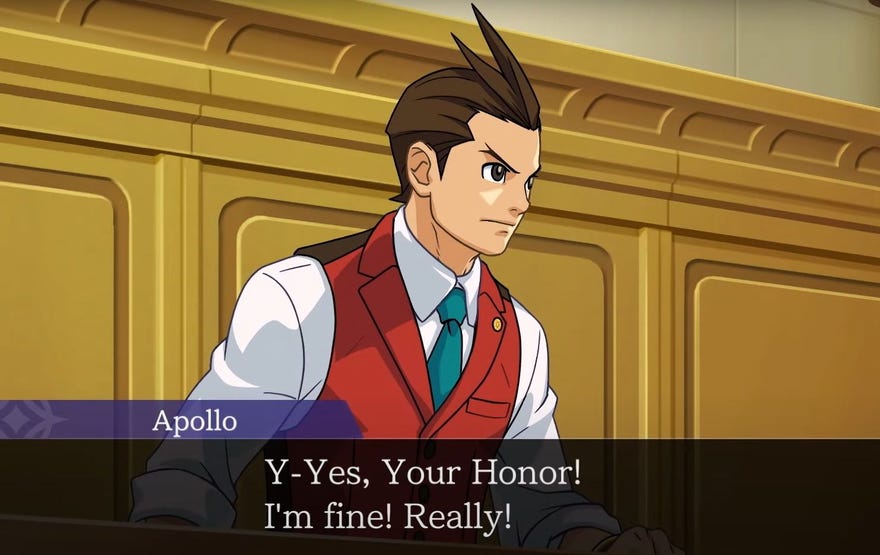 It was announced earlier this year that Apollo Justice: Ace Attorney Trilogy would arrive on PC in early 2024. Now we have a specific release date for the three Objection-able courtroom puzzlers: January 25th, 2024.
Here's a release date trailer:
The pack includes Apollo Justice: Ace Attorney, Phoenix Wright: Ace Attorney – Dual Destinies, and Phoenix Wright: Ace Attorney – Spirit of Justice, as well as the previously DLC-only 'special episodes' released for the latter two - "Turnabout Reclaimed" and "Turnabout Time Traveler". The pack also includes an art library, cutscene viewer, and an "Animation Studio" in which you can loop animations over a selected background, which seems like a good meme maker.
There's also a "story mode", where you can sit back while the puzzles solve themselves. I'm not normally a fan of visual novels, but I've also not played any Phoenix Wright games other than the first few hours of the first one, and being able to skip over the puzzles actually makes the prospect of getting through these games seem more achievable. Perhaps I'd be missing too much of what makes them such a delight, however.
The Apollo Justice Trilogy is a successor to the Phoenix Wright: Ace Attorney Trilogy which came to PC back in 2019. We liked it a lot. Since then, we've also had the historical duology Great Ace Attorney Chronicles in 2021 - which we also loved. I think at this point all that's left is for Capcom to port Ace Attorney Investigations: Miles Edgeworth and its sequel.