'Tanks/Thanks' Pun: Obsidian's F2P Armored Warfare
PvE and PvP tank battles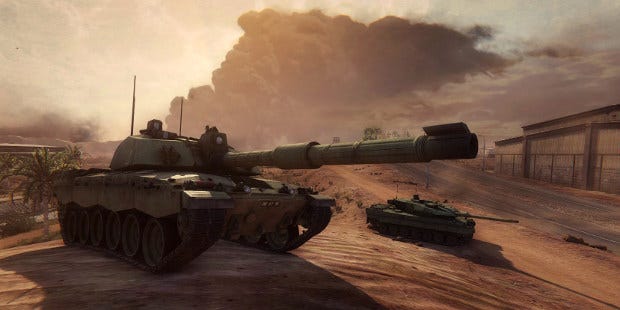 From their beginnings as a rag-tag band of plucky youngsters forming after the closure of Black Isle Studios, Obsidian Entertainment have made RPGs. Alpha Protocol, Fallout: New Vegas, Knights of the Old Republic II, Pillars of Eternity... it's sort of their thing. They do still like a good explosion, though. We didn't post about the announcement of Armored Warfare in March (a few days before I joined RPS). I imagine the Hivemind looking at its inbox in disbelief, glancing at the bottle of moonshine in its tendrils, back at the e-mail, the bottle, to the e-mail, the bottle, then finally declaring "No more for me!" and tossing the bottle over its many shoulders.
But Obsidian are making a free-to-play multiplayer tank game. For proof, see this first gameplay vid.
The pre-alpha footage shows a PvE co-op mission (it has PvP too) with four players completing objectives and smashing AI vehicles. Armored Warfare's set in modern times so its tanks are newer than those in, say, World of Tanks. They've got fancy gadgets like smoke grenades, active protection systems, and guided missiles too.
Obsidian are keeping shtum about Armored Warfare's release date, but plan to launch closed beta testing somewhere from January to March next year. Signups are on the website.
This is a capture of a livestream so you'll want to skip to the one-minute mark to jump some guff, but then you'll see project director Rich Taylor explain what tanks are (some kind of big car) and what they do (shoot other big cars). The game itself shows up at 3:50 then rolls on for 19 minutes.