Liberté, Égalité, Desolés: Free DLC After Assassin's Mess
Free DLC for all, free games for some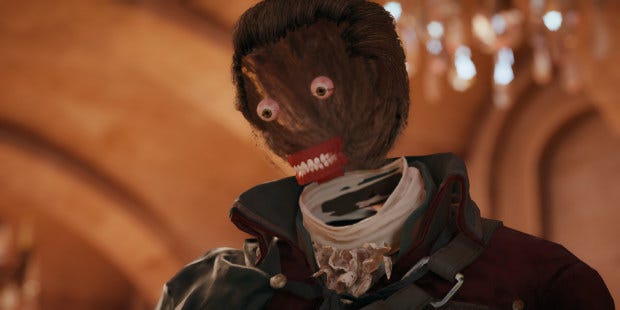 I'm disappointed in Alec for not having a more wacky experience in Assassin's Creed Unity. While folks across various platform found bugs from horrifying missing faces to people on invisible minibikes, he only had performance problems. Try harder to get funny bugs next time, Alec.
Ubisoft have apologised for launching the game in such a sorry state, and are trying to make amends by offering everyone its first planned big DLC pack, Dead Kings, for free. And as that was supposed to be part of the DLC Season Pass, they're trying to make amends to Season Pass holders by offering them a free game from a selection including Far Cry 4 and The Crew.
"I want to sincerely apologize on behalf of Ubisoft and the entire Assassin's Creed team," Yannis Mallat, CEO of Ubisoft Montreal & Toronto, said in the announcement. "These problems took away from your enjoyment of the game, and kept many of you from experiencing the game at its fullest potential."
In apology, they're giving Dead Kings for free to everyone who owns Unity. It'll add a new chapter set after the end of the game, exploring beneath the city of Saint Denis. But as this was supposed to be a big part of the DLC Season Pass, Ubisoft are outright scrapping the pass. It's no longer on sale, and presumably all its component bits will be sold separately.
So to apologise to folks who did buy the Season Pass (or fancy editions which included it), they're offering a free game from this selection: The Crew; Far Cry 4; Watch Dogs; Assassin's Creed Black Flag; and Rayman Legends. Given that the pass cost about £20, that's not bad. They don't seem to be offering straight refunds, though. They should do that too.
Next time, they might try not releasing a game in such a wonky state. Terrible thing, that rush to meet the holiday season.