Baldur's Gate - Siege of Dragonspear Out Now
Something about going for the eyes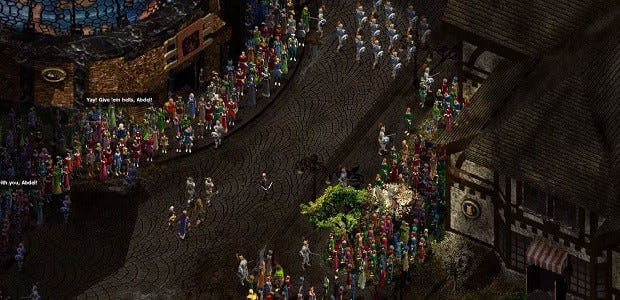 More than a decade after the Baldur's Gate [official site] saga appeared to come to an end, there's a brand new expansion available to buy right now. I know how this might look - it's classic April Idiots' fodder, telling you about a new chapter in a much-loved series and then revealing that all of your favourite characters have been transformed into unicorns or somesuch.
This is real though. You'll need the Enhanced Edition of the game to play and we'll have our own judgement on the expansion next week but, for now, here's a trailer and some details.
Some nice big crowd screens in there, both festive and siege-y. I like that the expansion forms the bridge between the first two Baldur's Gate games - I don't think a linking segment was needed but I do like to revisit familiar folks and find out what they were getting up to in any apparent downtime. There are questions to be answered, I'm sure, given the gap between Baldur's and Baal.
I wish I could play all of Baldur's Gate for the first time right now. That would be fun. If you're in that position - and can there be many people who want to play Baldur's Gate but somehow never have? - avoid the plot synopsis for Siege of Dragonspear. It tells you rather a lot more about Baldur's Gate 2 than you should know if you're just starting for the first time.
No plot synopsis here then. Just a bullet list:
A new chapter in the Baldur's Gate saga
A sharp and subtle adventure that pits you against an enigmatic new foe
Venture through the vibrant new hand-painted areas of the Sword Coast
Import your character from BG:EE and continue the story in BGII:EE
Four new player soundsets to customize your hero
The original cast returns to kick butt for goodness - along with four new additions!
Updated UI and improved Infinity engine features
25+ hours of gameplay
New items, quests, and a new class: the Shaman!
Original soundtrack by Sam Hulick
Functional, extensively tested cross-platform multiplayer on all supported platforms
"Story Mode" difficulty setting to allow players to experience all of the story with none of the Game Over screens
That final point, about the "Story Mode" difficulty, is something I was pleased to see in Dark Souls III when I starter playing for review last week.
And that is how April Fools' Day works. I lied to you about Dark Souls III and I've hidden razor blades in your cereal boxes. HAPPY FOOLS' DAY