Batman: Arkham Knight - Warner Bros Offer Full Refunds For Steam PC Version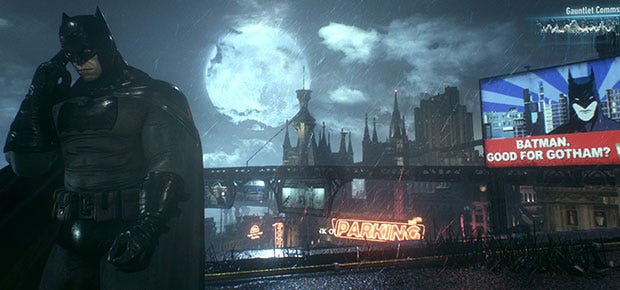 UPDATE: Green Man Gaming will also be honouring full refunds until the end of 2015. I've updated the article to reflect this.
Warner Bros have announced they will offer a full refund to Steam owners of their troubled PC port of Batman: Arkham Knight [official site].
"Until the end of 2015, we will be offering a full refund on Batman: Arkham Knight PC, regardless of how long you have played the product," announced the company on the game's Steam page. I'm flagging up the Steam stuff because it looks like this is an offer or an attempt at damage limitation which relies on Steam's refund system.
Arkham Knight was originally pulled from sale at the end of June this year - an extraordinary move which underlined just how bad the technical issues could be for players of the PC version.
Here's the video John made at the time to show the framerate struggles he experienced during the game's opening:
In the intervening period there were patches and updates for those who had picked up the game already. For those waiting for the re-release... well, it turned out four months still wasn't enough time to be able to fix the game properly.
As Alec explained the day after the re-launch:
"there's some sort of issue with paging which means the official advice is to restart the game if it stutters under Windows 7, while Windows 10 players are advised to have at least 12GB of RAM. No other game, to the best of my knowledge, has that requirement. On top of that, there's no official SLI or Crossfire support, and people without ridiculous systems are reporting all sorts of other issues too, including crashes and low frame-rates."
Adam's review pointed out positives, particularly when it came to spectacle and style but on the technical front he noted:
"Sadly, it all seems like a bit of a crapshoot – my PC is mighty (specs at the end) but it's not the mightiest, and given the botched nature of the release and now re-release, I couldn't confidently state that anyone should take a chance with the game unless they had the option to refund."
In announcing the refund scheme Warner Bros note that, for players who do hang on to the game, they will continue to address the issues they can fix and "talk to you about the issues that we cannot fix."
Basically the whole thing has been a complete disaster and, from that last quote, some problems with the game will never be fixed.
Here's the full statement:
We are very sorry that many of our customers continue to be unhappy with the PC version of Batman: Arkham Knight. We worked hard to get the game to live up to the standard you deserve but understand that many of you are still experiencing issues.

Until the end of 2015, we will be offering a full refund on Batman: Arkham Knight PC, regardless of how long you have played the product. You can also return the Season Pass along with the main game (but not separately). For those of you that hold onto the game, we are going to continue to address the issues that we can fix and talk to you about the issues that we cannot fix.

Thank you,

Warner Bros Interactive Entertainment
Two things:
First is that even the refunds experienced technical issues. (If you encountered problems submitting a refund for the game on Steam Valve have also noted that the issue should have been resolved now so you should try again.)
The other is that, as I noted at the top of the post, this post refers to a Steam-bought refund offer. I just checked in with Green Man Gaming's site and in mid-September they updated their refund info to say that the September 3rd patch fixed a large number of gameplay issues and "as such we will no longer be honouring refund requests for this title". That hasn't changed. Green Man Gaming have just issued an update saying they will also be honouring refunds until the end of 2015.
I've sent Warner an email asking for clarification on whether they're working to secure refunds or some kind of compensation for people who purchased copies of the game for PC from other retailers. I'll update this post if I hear back.