Batman: Arkham Knight DLC Wrapped Up
One last big Batblast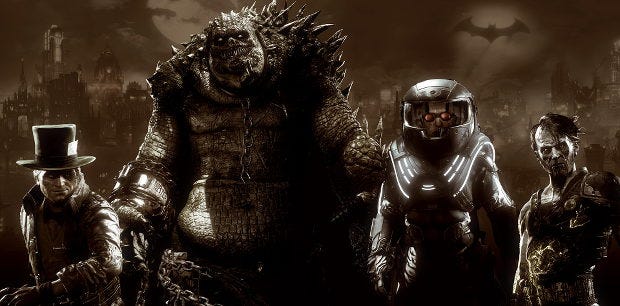 Even Batman wants to simply kick back at Wayne Manor over Christmas in his Batdressing gown and Batslippers (they're just hollowed-out flying foxes, I hear), so Rocksteady Studios have wrapped up Batman: Arkham Knight [official site] with a few days to spare. The final load of DLC is out today - and I do mean load. The core of it all is the 'Season of Infamy: Most Wanted' gubbins, four new missions starring big ole Batvillains, but there are also new gobs of challenge maps and costumes from movies and comics and things. Merry Batchristmas!
Right, so, those Season of Infamy missions will have Batman battling inside the pages of The Mad Hatter's storybook, investigating an airship prison that contained Killer Croc, scrapping with Ra's Al Ghul and the League of Assassins, and telling Mr. Freeze to "chill out" (I hope). Also out today for cash money are new combat and stealth challenge maps, the Batsuit from the The Dark Knight, a Batsuit from the Batman: Noel comic, the Batmobile from Batman: Arkham Asylum, and a Rocksteady-themed Batmobile skin. They're sold separately or all in the DLC season pass (crumbs, that only costs £2 less than Arkham Knight itself!).
On the free-ish side, they've added a new Batsuit for people who reach 240% completion (however that works - don't Batlook at me) plus new Harley and Red Hood skins for people who own other bits of DLC. I think that's all of it?
As for the ongoing process of fixing Arkham Knight up from the state it first launched in, Rocksteady put out another patch last week. They're more on polishing than overhauling now, it seems, as they're confident enough about performance to bring changes like "Restored heavier rain during the opening section of the game." Moody!
You can see a bit more of the DLC and stuff in this too: