Batman: Arkham Knight Mod Unlocks Other Characters
Be Not The Batman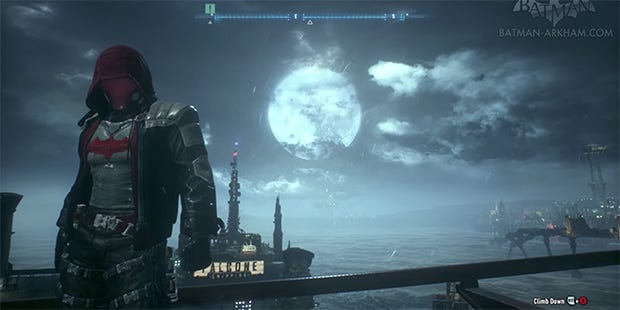 Okay, so the PC version of Batman: Arkham Knight [official site] was so shoddy that Warner Bros have temporarily removed it from sale. That doesn't mean those of you playing despite the temperamental frame rate and occasional freeze can't enjoy a little something not available on console, namely, a mod which allows you to play as ten characters other than Batman, from Harley Quinn to Jim Gordon. Even if Harley Quinn: Arkham Knight doesn't have quite the same ring to it.
Interestingly, some of these characters (Red Hood and Harley) are available as part of pre-order DLC [Update: and some are playable for sections of the main game; sorry, haven't played it yet myself - ed.] which suggests that the others may be added in future DLC. Which means the modders have snuck in and unlocked them early. Paying to unlock content that's already on our hard drives is standard fare from Warner Bros, so that's not too surprising, but at least getting an early glimpse might go some way to making us feel better about our second-rate version of the game. Having said that, while the characters themselves have been unlocked, their accompanying story missions won't be available until the DLC is out. At the moment it's more of a costume pack, though some characters don't have the full range of abilities available to Batman.
This is obviously unofficial and not supported by Warner Bros or Rocksteady (which is why it's a mod and not a patch), so you'll need to do a little jiggery pokery to get it all set up. Full instructions can be found over in the description of the video below, which shows off each of the characters roaming the streets of Gotham. If you haven't finished the game yet, it might be best to hold off as there are character spoilers included in this mod. You have been warned.
Sure you're ready? Okay, here's the full list of available characters: Red Hood, Harley Quinn, Nightwing, Robin, Azrael, Bruce Wayne, Catwoman, Commissioner Gordon, Joker, and GCPD Officer Owens. Or just plain old Batman, if you want.
As ever when it comes to mods, make sure you back up your saves first. This might be the perfect thing to play around with while you're waiting for Rocksteady to fix the issues with the port.