Battlefield 1's They Shall Not Pass DLC is free today
Going clubbing tonight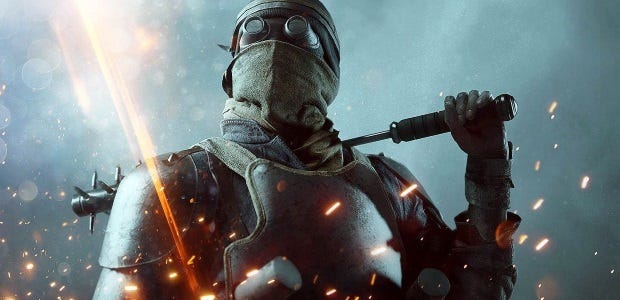 The sun is officially setting on Battlefield 1 this month. After the surprise addition of the Shock Operations playmode, DICE announced that updates for their pseudo-historical multiplayer manshoot would be ending this June. That doesn't mean that the game is dying, by any means. In fact, owners of the basic edition (sans DLC) are getting a pleasant little boost today as the first expansion - They Shall Not Pass - is free via Origin for the next two weeks.
While this would normally be the point where I embed the official and fancy trailer for the DLC, instead I'll just leave you with Weebl's intensely silly musical tribute to the expansion, featuring some of the daftest faux-French accents I've heard since the days of 'Allo 'Allo!
Alright, here's the real trailer, full of fire and blood and distinctly devoid of Daft Punk-inspired beats.
They Shall Not Pass is a weighty chunk of content for the game. Six maps, a new army (the French), the Frontlines playmode and the Trench Raider class. The new class is armored better than most, gets to swing around a bloody great mace at people (a one hit kill in most cases) and throw additional grenades. To balance them out, they only get a pistol for ranged encounters. Not subtle, but a lot of fun if you can make the balance of naked aggression and stealth work.
One of the They Shall Not Pass maps, Rupture, was previously made free for all, so it's not too surprising to see the rest of the expansion follow. It wouldn't shock me too much if the coming months brought similar free DLC giveaways to the game, too. Battlefield 4 saw a similar string of staggered giveaways before eventually making the complete contents of the season pass free to all for a time. The recently added Shock Operations mode also makes a few of the later expansion's maps playable for those without the season pass.
You can grab They Shall Not Pass for Battlefield 1 via Origin here, down from its usual £12/$15 price tag. The giveaway is running for the next two weeks, and if you grab it now, and it's free to keep forever.