Battlefield 1 goes cheap as chips and its DLC Premium Pass is free to keep this week
World War Fun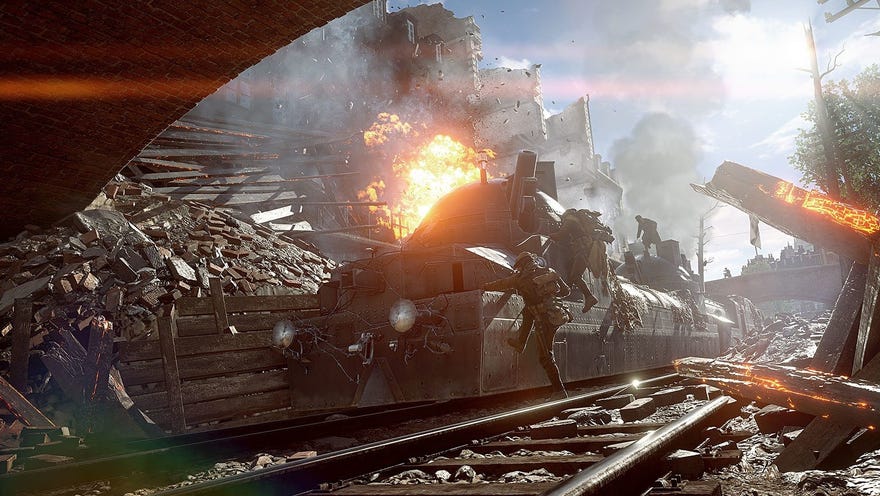 Battlefield 5's open beta is over, but the battle for objective points is eternal. As promised last week, EA have made the DLC Premium Pass for Battlefield 1 free today and for the next week. You'll need the game itself to use it, but it expands the (questionably) historical World War 1 FPS from 12 multiplayer maps to 26, featuring new classes, vehicles and weaponry. Not a bad giveaway.
Even if you don't own Battlefield 1, you can still add the Premium Pass to your Origin account now. You can grab it here, and the game itself is 88% off on Origin too.
Update: Battlefield 4's Premium Pass is also free on Origin. No reason not to pick that one up, too.
On top of the new maps, modes and weaponry, the Premium Pass includes 14 Superior Battlepacks - loot boxes, by any other name. While only containing cosmetic goodies and minor XP boosters, they're a divisive point. Interestingly, the upcoming Battlefield 5 is doing away with Premium Passes, loot boxes and DLC in general. While there will be cosmetic items you can purchase for real money, any 'game' content will be free for all. A major step in the right direction, in my opinion, but this giveaway is the next best thing.
At just over four quid, Battlefield 1 seems a very easy recommendation. It's a gorgeous-looking game (if a bit grim), and there's a good slab of single-player campaign content. Its multiplayer is frequently intense, although a bit more of a messy meatgrinder (befitting World War 1) than its upcoming sequel. While Battlefield 5 seems likely to take a bite out of Battlefield 1's player-base, I'd not expect the game to take too bad a hit. Expect Battlefield 4 and Battlefield 1 to stay well populated for years, as they offer three markedly different settings and tones.
As an interesting aside, much-maligned spinoff Star Wars: Battlefront 2 is due for a literally game-changing patch on September 25th. They're adding Battlefield 5's squad system to the game, allowing for largely seamless spawning in the field. Given that Battlefront 2 had a problem with long hikes to objectives between deaths, this should have a notable effect on match flow.
Battlefield 1 is 88% discounted on Origin, bringing it down to £4.37/$5. The Premium Pass is discounted by 100%, and even if you don't own BF1 yet, you can add it to your account anyway. Battlefield 4's Premium Pass is also available free here.