BattleTech delayed into 2018
Better late than rubbo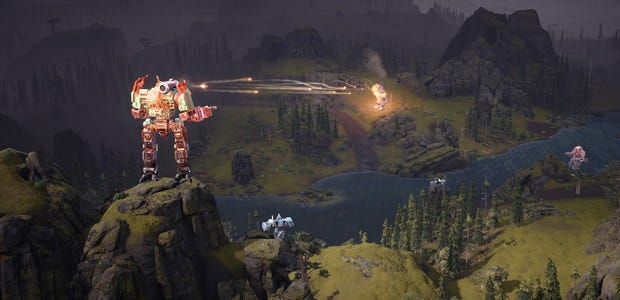 The turn-based tactical BattleTech [official site] "is the mech game I've always wanted", our Adam declared after playing a bit. "It's likely to be one of my favourite games of 2017," he said. Well then. Let's blame him for flipping well jinxing it, as BattleTech is now delayed. It was due later this year but is instead now pushed into some time in "early 2018". Why the delay? The people making BattleTech -- Shadowrun Returns devs Harebrained Schemes -- say it's to make the game good, yeah?
Based on the tabletop mech wargame created by Harebrained co-founder Jordan Weisman, BattleTech hit Kickstarter in 2015 and hits its goal within an hour. Harebrained needed to recalibrate their plans as the crowfunding ploughed through stretch goals, and they still have a way to go. Weisman said in today's announcement:
"We'd previously been projecting a late 2017 release but now that we've revised our AI & combat mechanics in reaction to your feedback, completed a thorough review of the work remaining on the game, and are poised to release the Multiplayer Backer Beta update, all indications are that Paradox & HBS will release BattleTech in early 2018.

"Throughout development, the message we've received has been clear, 'Don't rush it, just make it great.' and we have taken that to heart."
For people already playing in the backer beta, a big update is coming this week.
BattleTech was certainly promising when Adam played in May. He said:
"The most surprising thing about BattleTech is how beautiful the damage models are, and how much weight there is to the combat and movement. Lasers scorch and singe the metal, missiles leave steaming gouges in armour, and flames encase overheating mechs, cooking the poor pilot.

"They're super-weapons, yes, but they're also giant, heavy, precarious, vertical tanks. Formidable for sure, but when they clash against others of their kind they can suddenly seem terrifyingly vulnerable."
Ooh go on, I'll wait. Better late than rubbo.