Ben There, Dan That Gets More "Special"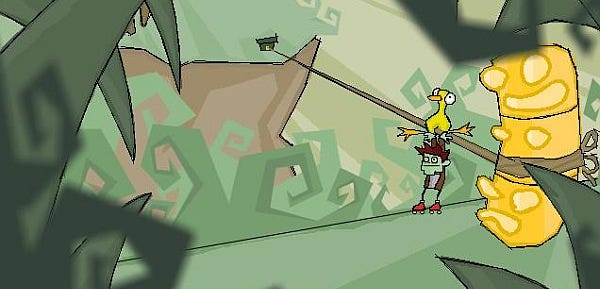 Size "Zombie Cow" Five Games have (oh, come on, we all know it's just Dan Marshall)... has just announced that he's made a special edition of the game that first brought him to fame, Ben There, Dan That (exclamation mark). Explaining it as "George Lucased", the new version addresses his anally retentive need to go back and fix the past. I may be reading between the lines of his announcement here. But the good news is the new, tidied version, along with the 16-page making of e-booklet, Lowering The Tone, and a new storybook explaining some back history of the characters (they had back history?), is available on a pay-what-you-want basis.
I want to pay minus £50,000 for it, and I expect the money to be paid directly into my bank account on receipt of the game. Although the slightly confusingly worded email the barely literate developer sent us does seem to suggest free won't be an option. Because, well, he needs to eat.
The important thing to note, of course, is that the game is bloody brilliant. And you should play it. (If you already own it via Steam, your copy with soon magically update into the newer version.) So what's in the newer version? Quite a lot, actually, for what was a little indie adventure made by two idiots:
FEATURES:
New swishy graphical enhancements throughout! Ben There, Dan That! is now exponentially more gorgeous and sexy to look at.
A stunning jazzy "Sam and Max: Hit the Road" homage-y soundtrack! Music that will caress your ears and grate infuriatingly as you fail to solve a puzzle.
More sound effects!
Some better signposting for the puzzles people didn't get, or the objects they couldn't see!
The more-readable font from "Time Gentlemen, Please!"
Fixes some boring Windows 7 issue some people were having

SPECIAL BONUS MATERIAL:
EXCLUSIVE: A special 16-page eBook candidly telling the whole story of the game's creation for the first time; "Lowering the Tone"
EXCLUSIVE: An extra special never-before-seen treat: a non-interactive video storybook presentation lifted from Dan and Bens' diary entries, explaining the backstory as to exactly how Dan wound up dead in a jungle tied to a length of twine in the first place. Hear Dan and Ben speak for the first time in this fully voiced, and expertly illustrated six-and-a-half minute extravaganza.
EXCLUSIVE: All the 'cut' music that didn't make it into the final game. Hear unloved and unused renditions of your favourite Ben There, Dan That! ditties.
EXCLUSIVE: Posters to print out and hang over your living room window, or to slap on your desktop.
EXCLUSIVE: Never-before-heard audio recording of Ben stomping around his flat cheering his own name, for the ending sequence. Truly there has never been a more honest depiction of the lengths indie developers have to go to for their art.
EXCLUSIVE: Dan and Ben ringtones – give your phone the Dan and Ben once-over with these exclusive musical ditties.
That doesn't sound too bad, does it?