BioShock 2 Multiplayer: Extreme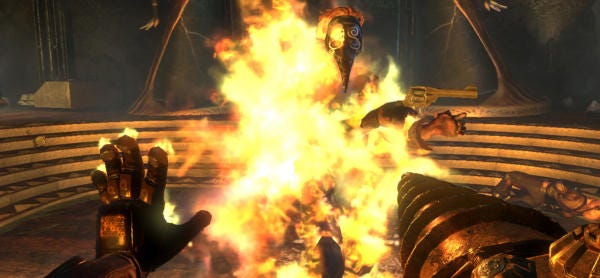 As well as a lady in a Big Daddy costume, it seems the forthcoming BioShock sequel will also feature multiplayer. Crivens! But will this new mode be the Counter-Strike to BioShock's Half-Life, or as inappropriately abstract as the infamous Deus Ex multiplayer patch? Of the just-released details, two facts stand out as super-fun: 1) we'll finally get to visit pre-fall Rapture 2) this mode's being handled by Digital Extremes, co-developer of UT and UT2003/4. Oh, you're listening now, aren't you?

Sounds as though no-one gets to be the the prototype Large Father who's the protagonist of the singleplayer game, but rather everyone's a Plasmid test subject during the fall of Rapture, warring over territory and powers in the sinister sub-aquatic city.
On that theme, it seems as though 2K plan to borrow a page from Call of Duty 4's book, using the multiplayer to ensure the game stays around and in the headlines for some months, rather than simply enjoy a month of pre-release hype then suffer two years of people raging about it at great length on the internet, as with the original BioShock. Experience points earn you new plasmids, tonics and weapons, which you can combo in various arrangements to create an ostensibly unique character of your own. I'm not quite sure if this is persistent or just within the scope of a single game, but am endeavouring to find out.
And, as previously mentioned, the multiplayer is set before Rapture plunged into decay and anarchy. Well, maybe not before the anarchy, given there'll be a bunch of plasmid-enhanced crazy men fighting each other. No word on if there will be civilians or any other sort of NPC, or just deathmatch arenas, but it'll certainly be interesting to see what super-shiny Rapture looked like, given ol' Andrew Ryan's boasts about its splendour.
Digital Extremes are at the helm, which is a source of mixed feelings. On the one hand, they reportedly had much to do with why the original Unreal Tournaments were so top-notch, and some have blamed their omission from the UT3 team for its failings. On the other hand, their two singleplayer outings, Pariah and the recent Dark Sector, have been pretty darn dreary. By sticking to BS2's multiplayer though, they're very much playing to their strengths - genuine veterans of online FPS gaming, and their involvement is surely something to celebrate.
Full press release here:
2K Games, a publishing label of Take-Two Interactive Software, Inc. announced today that it has signed a partnership with Digital Extremes to develop the multiplayer experience for BioShock 2. Under this partnership, Digital Extremes is working closely with the creative team at 2K Marin to develop a new and substantial element that enhances the lore and fiction of the BioShock universe.

"The fans asked for a multiplayer experience and we answered," said Christoph Hartmann, president of 2K. "With Digital Extremes delivering a multiplayer experience for BioShock 2 that features all of the things that make BioShock unique, we're holding ourselves to a high standard so that we can deliver the depth and variety that fans of the BioShock universe demand."

Multiplayer in BioShock 2 provides a rich prequel experience that expands the origins of the BioShock fiction. Set during the fall of Rapture, players assume the role of a Plasmid test subject for Sinclair Solutions, a premier provider of Plasmids and Tonics in the underwater city of Rapture that was first explored in the original BioShock. Players will need to use all the elements of the BioShock toolset to survive as the full depth of the BioShock experience is refined and transformed into a unique multiplayer experience that can only be found in Rapture.

Key features:

• Evolution of the genetically enhanced shooter – Earn experience points during gameplay to earn access to new Weapons, Plasmids and Tonics that can be used to create hundreds of different combinations, allowing players to develop a unique character that caters to their playing style.

• Extend the Rapture fiction – Players will step into the shoes of Rapture citizens and learn more about the fall of Rapture as they progress through the experience.

• See Rapture before the fall – Experience Rapture before it was reclaimed by the ocean and engage in combat over iconic environments in locations such as Kashmir Restaurant and Mercury Suites, all of which have been reworked from the ground up to deliver a fast-paced multiplayer experience.

• FPS veterans add their touch to the multiplayer experience – Digital Extremes brings more than 10 years of first person shooter experience including development of award-winning entries in the Unreal and Unreal Tournament franchise.
It seems inevitable you fine folk will have some strong feelings about this, one way or another.