Liquid Football: Rocket League Getting Free AquaDome
Back of the net!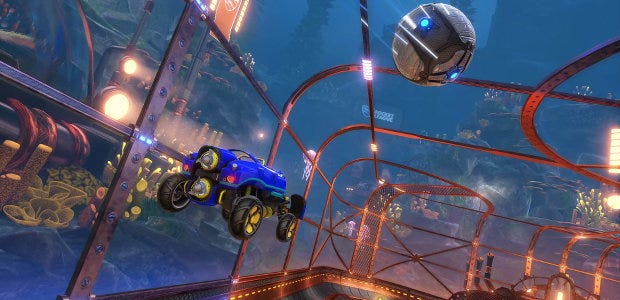 There's always a lighthouse, there's always a man, there's always a GOOOOAAAALLLL!
Perhaps misunderstanding the phrase "back of the net", Rocket League [official site] developers Psyonix have announced an oceanic haul for their bumper-to-ball sports 'em up. Next month will bring a free carfootie pitch set in a BioShock-ish undersea sportworld, named AquaDome. I always thought Andrew Ryan was more into golf (or golf was in him) but here we go. Two submersible-ish cars are coming as paid DLC too.
AquaDome is a brassy glassy undersea sportsfield surrounded by coral and kelp, sharks and jellyfish. It's standard arena shape, with no tricks, and looks flipping pretty:
Yes, perhaps it is as much Jules Verne as it is BioShock but Rapture is the reference that seems more understood and evocative on a video games site, all right. It's a dome under the sea, okay.
Launching alongside the AquaDome in October will be two new DLC cars, as is the Rocket League way. They're the slick sportsub Triton and the practical-looking Proteus, and will cost the usual £1.59/1,99€/$1.99 each.
Anyway! How've you been finding Rumble Mode? I've not had a kick-about myself but unpredictability of power-ups does look a lark, if sometimes frustrating.