BioShock Infinite: A Few Essential Tweaks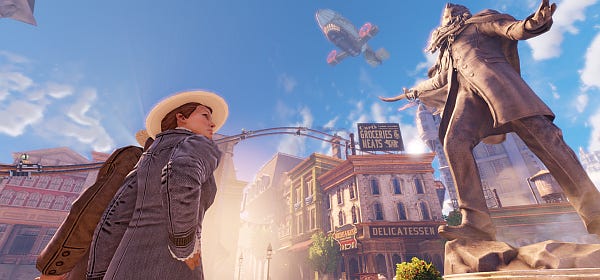 Hello. I am not at GDC, but I am at my desk with my lips on the RPS post horn, and I'm prepared to blow. My first honk on the Grand Parper of Postage today concerns my first few moments in BioShock Infinite. All those intro videos, that squeezed FOV, and an overly sensitive mouse . I'm used to having to drop out of games so I can go INI file wrestling, and Levine's latest is no exception. I've been forum lurking and come up with a few fixes for the most common issues.

All the INI files are found in this folder.
Yourname\My Documents\My Games\BioShock Infinite\XGame\Config\
Make sure you edit them in something like Notepad++, to make you feel all cool and hackery. If you mess up, all you need to do is delete the whole file. The game will generate a new, default one when it next loads up.
FOV
There is an FOV slider in the menu screen, but it's capped off at 85 degrees. I'm a 95-110 kind of guy. I have no reasoning for this, other than a love for Kubrick movies. That slider's function can be altered easily enough.
The file you'll want to alter is XUserOptions.

CTRL-F to find MaxUserFOVOffsetPercent=15.000000 and change the value to something higher. It works on percentages, so 28.570000 would mean the maximum the slider goes to is 90 degrees. I'd whack it to 40, or higher, because it alters the top end of in-game FOV slider. In-game, adjust the slider until you're comfortable.
Disable Intro Vids
I don't dislike AMD, 2k, or any of the other fine companies represented in the opening videos, but I don't like them enough to want to hear about them all the time. Begone!
Open the XEngine.ini. CTRL-F to [FullScreenMovie].

These lines are scattered within.

StartupMovies=2KLogoSweep720p2997
StartupMovies=IrrationalLogoTest
StartupMovies=UE3AnimatedLogo_ProRes
StartupMovies=AMDLogo720p

Change them to

;StartupMovies=2KLogoSweep720p2997
;StartupMovies=IrrationalLogoTest
;StartupMovies=UE3AnimatedLogo_ProRes
;StartupMovies=AMDLogo720p

And the intrusive adverts are BioGone.
Mouse Sensitivity Slider
If your mouse is particularly sensitive, the ranges of the sensitivity slider might too wide for you to subtly alter.
These fixes are for XUserOptions.

CTRL-F: MinMouseLookSensitivity. It'll be at 0.100000. Change it to about 0.05. Below it MaxMouseLookSensitivity is at 4.000000. Change the higher value to something lower. Aim for 1.0, but you can go up or down to help with the range.

Enable 1999 mode right away.
The hardest game mode is hidden away, waiting for you to complete the game. If you feel like you want a challenge right way, here's how.
No INI hacking. On the main menu press: Up, Up, Down, Down, Left, Right, Left, Right, Esc, Enter.
I spent all night looking for these, but it turns out PCGamingWIKI has them and a few more besides. I've not tried the others.