BioWare address Anthem's approach to story and player choice
'Our World, My Story'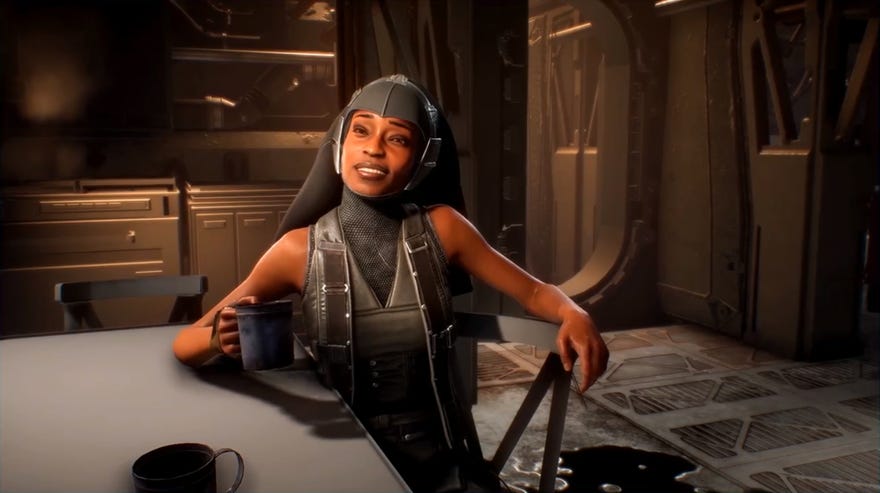 A handful of BioWare developers took to the PAX West stage last night to try to explain Anthem's balance of singleplayer story and multiplayer action. The hour-long panel focused mainly on the factions and NPCs that your freelancer protagonist will be able to interact with and influence in the open-world action-RPG, including showing the 'Our World, My Story' trailer, which you can see below.
The trailer promises that, while the world's story will advance the same for everybody, your choices will also matter. The game's hub, called Fort Tarsis, allows you to interact with NPCs in your own way, developing relationships with them (though the panel later confirmed those relationships won't be romantic.)
Led by actor Nick Tarabay, who voices character Haluk in-game, the panel described how players will be able to explore Fort Tarsis at their own pace, interacting with the local community, and roleplaying to enjoy a "Bioware-quality story." On the other hand, a demonstration of the conversation system showed that players will only have two dialogue options when responding to NPCs.
Conversations will add information to your "cortex," a kind of lore bible that fills out as you learn more about Anthem's world, and bits of lore can also be found in the free play mode, which allows players to explore without taking on any specific missions. Perfect for if you (like me) just want to luxuriate in the foliage animations for a while.
The panel also explained that they will be continuing Anthem's story post-release, with free updates. There will be the ability to pay for purely cosmetic upgrades instead of grinding for in-game currency, but no randomised loot boxes, following EA's promises to "do better" on microtransactions.
A playable demo will be released on February 1st, which lead producer Mike Gamble called "not a beta or an alpha." However, in order to get "VIP access" to all pre-launch demos, you'll need to have already preordered the game or be an Origin Access subscriber. Whether there will be a free demo or beta isn't yet clear.
You can watch the panel in full below:
Anthem is scheduled to release on February 22nd 2019.