Blood Alloy Releases Prototype Demos, Don't Throw Abuse
Run, gun, fund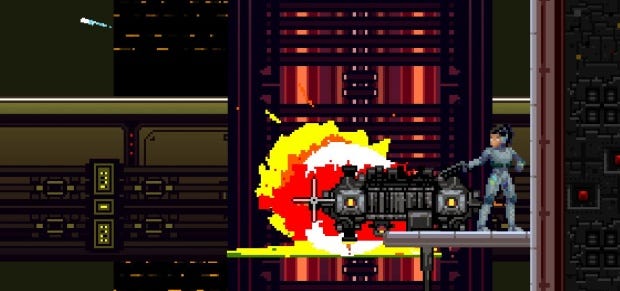 Blood Alloy looks an awful lot like Abuse. The game. Not... Nevermind. The 1996 DOS game by Crack Dot Com (kudos to them on that name in '96, let's note). But for those confused, THIS IS A GOOD THING! Abuse was brilliant. The game. The videogame called Abuse. Dear me. So obviously inspired by it (the game), and working in lots of Metroidvania elements, Suppressive Fire Games are hoping to create something new from multiple inspirations. We mentioned it last month, and its aims to raise funds. Since then its Kickstarter has rather ground to a halt, but in an attempt to enliven things, a couple of demos have been released.
Of the two, the more accessible is the Exploration Demo. It offers a peculiarly huge, sprawling set of locations, filled with enemies to shoot at as well. This shows off the Abuse-like floaty movement, and of course lets you once again enjoy keyboard movement and mouse aiming. Then move on to the Combat Demo, which gives a much more specific idea of the game, especially its difficulty. They're buggy, but these are obviously just prototypes. But they give you an idea of what they're about.
Whether it'll be enough to convince people to get behind I'm not sure. Still, we can't have enough Abuse-inspired Metroidvanias.