Broken Age Pt 1 Launching Next Week For Backers
Break me off a piece of that Broken Age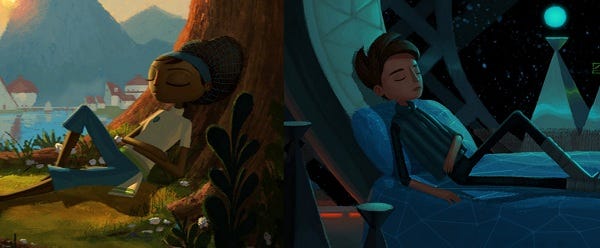 There's been some confusion and bad blood over the course of Broken Age's emphatically Kickstarted development cycle, but now the end (for the beta version of part one, because this is the year 2014) is nearly in sight. I guess all I can really say at this point is, break an age, Double Fine. You know, because it sounds like... like break a leg? Kinda? And the game is called Broken Age? Sigh, I know that look you're giving me, entire RPS readership. You're wordlessly suggesting that I should break my own legs in penance for that abysmal excuse for a joke, and also that you wish fire ants would begin erupting from my eyes, thematically unrelated though that might be. Fine. Fiiiiiiiiiine. But only for you.
The funnyman, the mirthmyth, the gigglegend Tim Schafer himself made the announcement on Twitter:
"Haven't shipped a game of my own in 4.5 years, an adventure game in 16, a point-n-click in almost 20. Next Tuesday is going to be exciting."

"Next Tuesday is going to be exciting because that's when backers can play Broken Age, Act 1! Public release date will be announced then too."
And then he publicly endorsed Iron-Maiden-branded beer, like you do prior to any momentous life occasion.
Did you back Broken Age? By which I suppose I mean, are you a human being from planet Earth who did not briefly and inexplicably blip out of existence between the months of February and March 2013? Are you still pleased that you chose to, um, keep existing?