Watch: Caffeine Really Doesn't Get Up And Go
I'll be cutting down, thanks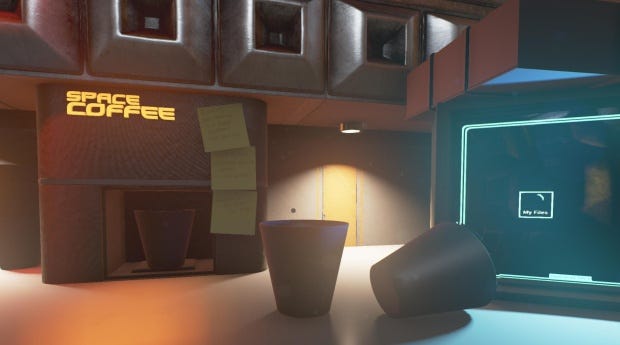 The long-promised first-person horror thing Caffeine [official site] is now out, so intrigued by a world addicted to coffee and something about space, I thought I'd take a look. And when everything I touched started spinning around the rooms, I thought I'd better video it. Yeah.
Yes, so, I've no idea what I was supposed to be doing. Eventually just stumbling around in barely lit corridors, with a madly rotating key card hovering in front of me, didn't prove to be the gaming experience I was after. I cut out a good half hour of those corridors, you'll be pleased to learn. You can see the rest here:
(Yes, I see the door I was supposed to go back to now I watch it back. Half an hour of corridors had me forget about that.)
Caffeine is on Steam for an extremely optimistic £12.