CoD Advanced Warfare Launches Trailer, Not Game
It's the simple things. And the exploding things.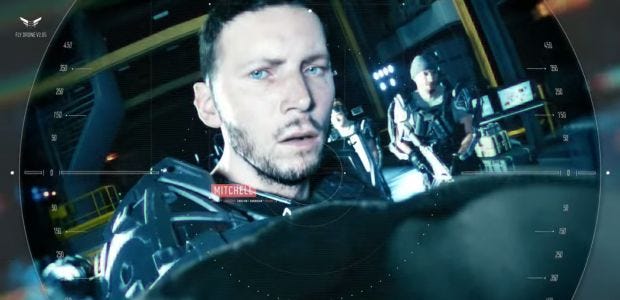 It's a good year for videogame trailer one-liners, but who would have guessed at the start of the year that the best of them would be delivered by Kevin Spacey? The poster-boy of this year's Call of Duty installment and for Evil Capitalism actually says the name of the game in the launch trailer. That's bold - and I've never smiled so hard at something so cliché.
Ah, name-dropping. The epitome of class. I'm also quite looking forward to all the explosions, gruff shouting and doing this a lot:
You would think that a "launch trailer" would be the final piece of pre-release marketing for a game, but there's been even more since this one was posted earlier this week. First there was this video of what a collection of pro Dutyers thought after a short play session. Then the Juventus football team received what I can only presume was a delivery of cool meats. The minimum and recommended specs are also now available on Steam and are quite hefty. The game's out on November 4th.
As for best trailer one-liners of all time, that's gotta go to this, dunnit?